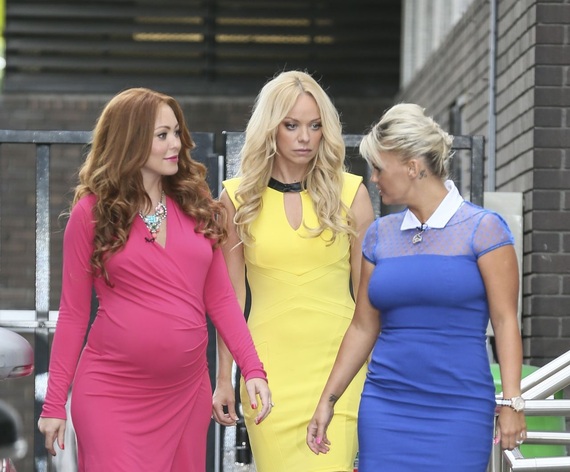 It was a surprise when Kerry Katona revealed that she and fiancé George Kay got married on Sunday, but an even bigger surprise has just been revealed.
At 38 weeks pregnant, Atomic Kitten member Natasha Hamilton knew she could go into labour at any time, but it looks like this might have happened at her bandmate Kerry's big day.
A source reported to the Mirror that the 32-year-old singer was well on the way to meeting her fourth child.
"
She had a baby bag ready with her just in case, and told pals there that Ritchie had even warned her that she might be better off missing the party just to be safe. But she loves Kez so she went along to show her support," they told the paper.
Natasha joked on Twitter before the wedding about how much stuff she had to bring with her, saying she was planning to move in with Kerry.

After the speeches, Natasha started to feel unwell, so she and partner Ritchie Neville left the celebrations and rushed to the hospital.
"It was a late wedding, so the speeches were going on at 9pm when Natasha started feeling a bit sick. She had some pains, and decided to go to hospital just to be safe to make sure everything was OK with the baby."
"She hadn't realised but she was already 3cm dilated," the source said.
Natasha and Ritchie however have been much cagier about what happened.
Both have commented on Twitter about their hospital visit, with Natasha thanking the staff at South Mead Hospital for their help.
Natasha wrote that she had "an eventful 48 hours", while Ritchie hinted saying they had a "long day and night" at the hospital.

So far however, neither has confirmed whether their baby girl has been born. They may be waiting to make or formal announcement later on in the day. Or maybe they just don't want to steal Kerry's limelight!
UPDATE:
Natasha's representitive has stated that the actress has not yet had the baby, and had been allowed home from the hospital.
"After an eventful 48 hours of suspected labour and being kept in over night in Bristol Hospital, Natasha is now back home after contractions stopped, " her spokesperson siad.
"She's under the watchful eye of her midwife and they've got the hospital bag ready and packed!"