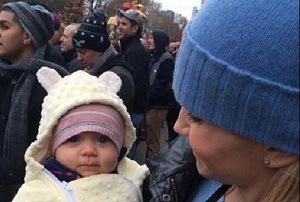 She certainly has her hands full, what with four children under the age of six, and life is about to get even more hectic for presenter Andrea Canning.
The NBC star announced that she is expecting her fifth child – another daughter – with husband Tony Bancroft.
The 42-year-old shared the wonderful news yesterday, revealing that her little one is due to arrive in May.
"We are very excited! It was a little unexpected since I am 42 now. Ironically this is one of the easiest pregnancies! I think there's something to be said for not trying and not having that pressure," Canning told TODAY.com.
She added: "We feel so lucky and blessed to have four healthy, beautiful girls and now a bonus baby on the way!"
Canning admitted that while it will be a busy time in her household, with five children under the age of six, she and husband Tony are looking forward to the task.
"Five kids [aged] six and under will definitely be a challenge but we're organised and up for it! They understand that mommy gets to have one meltdown a week," she joked.
Wow, what wonderful news for the family. We wish Andrea all the best with the rest of her pregnancy.