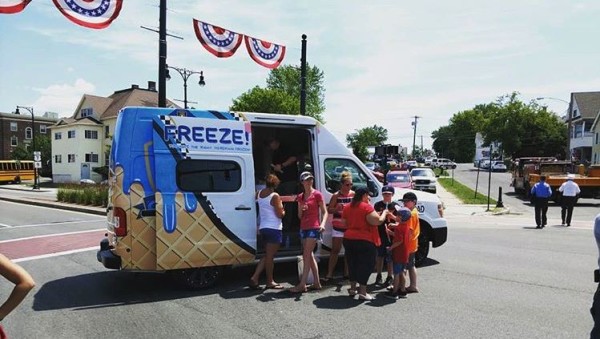 Protect and serve their town is what they aim to do and that's certainly what these Boston cops did.
These sweet police officers decided to give something back to their community
Officer Darren Derby of the Pittsfield Police Department in Massachusetts lead the project where the county's police department buy their own ice cream truck a and give away ice cream and popsicles to their community.
Lucky Pittsfield!
Redefining "protect and serve" with "Operation Copsicle"#protectandserve #protect #icecream #operationcopsicle #Pittsfield #police #CopBlue https://t.co/wNEL8bJUw3 https://t.co/gIECVjWBVc

— CopBlue.com *Real Police ~ Real News ~ Real Life* (@CopBlue_com) July 9, 2018
Due to many donations from community members and local businesses, the county cops now can volunteer their free time with "Operation Copsicle".
Darren told WNYT, ''I look at it as another tool to create a relationship, building trust in the community not just with the kids, but with the adults. They can say, hey, you know what, the police really can have fun. They realise there is something behind the badge, there's a heart, there's love, there's a connection to everybody.''
''We live in this community. Our children grew up here, we grew up here."
Definitely a good day to debut PPDs newest community outreach tool, #OperationCopsicle!! The parade was hot and we had the perfect solution for cooling down. #communitymatters #getoutofyourcruiser #righttoremainfrozen #freezepatrol pic.twitter.com/TiqV8LARuj

— Officer Darren Derby (@dderbyman) July 4, 2018
This is not the first time that Darren has helped out his townspeople - in the past he and another officer built basketball courts and gave away toys.
There were many tweets celebrating the project, with one user writing, ''the #operationcopsicle treats are worth it! I think we ate about 20 of them between the three of us trying to cool off today. Thanks Officer Derby and @PittsfieldPD!''
Darren took to Instagram in the aftermath to extend his thank you's to everyone who supported the project.
He wrote that their ''debut was a HUGE success. Thank you to the entire community that had our back when we needed it most! This is only the starting point to 1000s of future conversations. Be sure to follow our hashtag #OperationCopsicle to follow along and get notifications about future events.''
We wouldn't mind having Officer Derby as our local cop, would you?