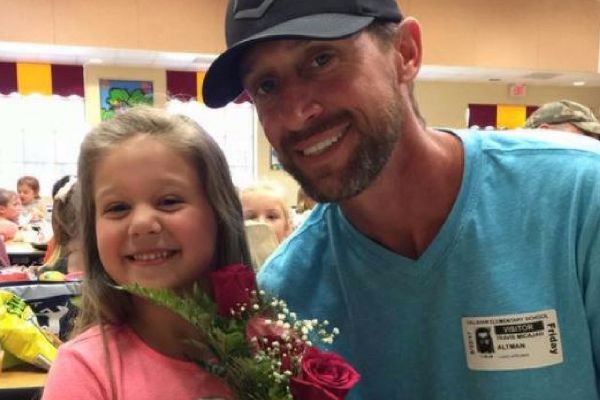 A little girl got the surprise of her life when her dad returned unexpectedly from working as a lineman to restore power after the recent hurricanes.
He arrived at her school cafeteria with a MacDonald's meal and a bunch of roses to surprise her.
One of the school dinner ladies, Shelly Mistler Harrison noticed him waiting and found out he had arrived home to see his daughter.
She said: "Yesterday at work we noticed a Daddy sitting, waiting on his daughter with lunch and roses. He is a lineman who has been working out of town for weeks, and was surprising his daughter who has been missing her Daddy!
"I asked him if I could share and he said yes! Such a sweet moment! Our eyes were leaking. His name is Travis Altman, if anyone is friends with him or his family please tag or share with them".
Shelly filmed the adorable moment when Travis' daughter entered the canteen and spotted her dad waiting for her. She ran over and jumped into her delighted dad's arms.
She later shared footage of the special reunion to the popular Facebook page Love What Matters.
The heartwarming video touched many others with one woman writing: "As a 59-year-old woman, to this very day, I too can remember being that little girl running into my Daddy's arms after he came back from working a storm job or wherever a lineman was needed".
Another thanked the diligent dad for his hard work, saying: "Shout out from Largo, Florida. I want to thank this gentleman and the other linemen from across the country. We're getting back to normal around here and it's all thanks to men and women like you".
Travis' friends soon shared the footage with the doting dad, praising him for the sweet gesture.
We're almost crying watching this – did you enjoy it too mums?