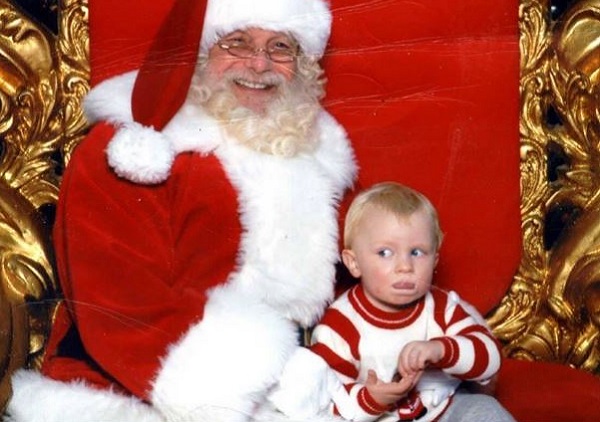 Visits to Santa rarely go to plan. Whether they get tired waiting in line or stunned at the big man himself, thousands of hilarious pictures are doing the rounds during the festive season.
This year, the funny Santa offerings are side-splitting. Our favourite is definitely this one, for a very specific reason.
It's not his cute little Christmas jumper, or even the expression on his priceless little face.
To the untrained eye, this could be any Santa picture. But it's not....
We taught our baby sign language. This is the sign for "help." You're welcome. pic.twitter.com/i6NkxBf4KP

— Kerry Spencer (@Swilua) 5 December 2017
The signal the boy is making with his hands? It's "help" in sign language.
Can't even.
To make it even better, other parents have replied with their own cheeky monkeys using *ahem* sign language around Santa.
Wonder what my son was trying to say. Lol pic.twitter.com/A1XBZduanC

— Dr. Gnome to you (@MrParacletes) 7 December 2017
Our daughter's been learning too pic.twitter.com/L13AsF7Y7o

— Ed (@pedal_pushin_ed) 6 December 2017
They're just too precious! We hope this doesn't land them on the naughty list!