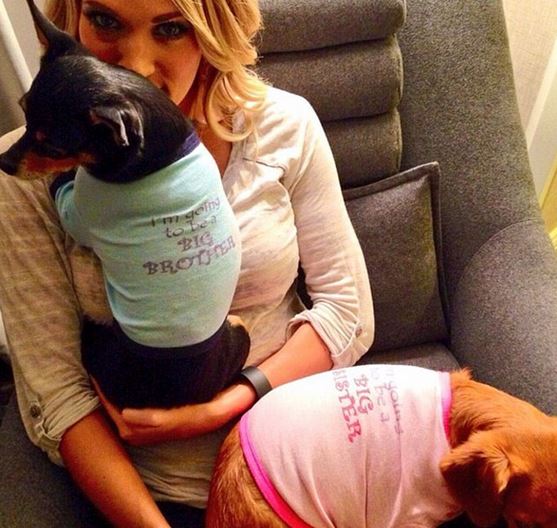 Last night saw the whole of Nashville gather for the 2014 Country Music Awards, hosted by beloved musicians Brad Paisley and (a very pregnant) Carrie Underwood.
Carrie has been careful to keep her baby's gender a secret, but her co-host raised the topic during their opening monologue.
Joking around about Carrie's pregnancy, Brad exclaimed, "And we're pregnant!" to which Carrie responded: "Brad, I don't remember you being there."
Brad then begged to know whether she was having a boy or a girl and eventually she pulled him aside and whispered the news to him.
"I know something you all don't know. Suck it, TMZ," Brad said in celebration, but later in the show he accidentally gave the news away. Worst. Secret keeper. Ever.
While talking about Garth Brooks, Brad said, "We should name him Garth!" pointing at Carrie's baby bump.
Despite the accidental reveal, the pregnant star didn't seem too angry, so hopefully they had previously planned to announce the news during the show.
Or she's the coolest pregnant woman ever.
Now let's take a second to marvel how completely amazing she look last night.