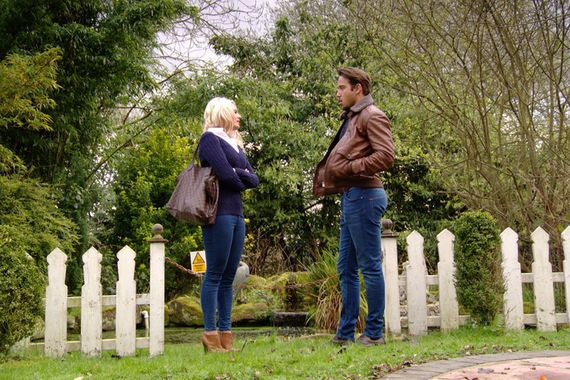 Some heartbreaking news was revealed on last night's episode of The Only Way is Ibiza.
In a tearful conversation with co-star Chloe Sims, Danielle Armstrong confessed that her four-year relationship with James Lock was falling apart after she suffered a miscarriage a few weeks ago.
"We went to have our first scan and the doctors told me I was in the middle of having a miscarriage," she told Chloe, breaking down in tears.

"When I found out I was pregnant, I didn't know whether I wanted to keep it. I didn't want to bring a baby into our relationship when all we were arguing so much. But I lost it anyway."
Worst of all for Danielle at this heartbreaking time, James abandoned her when she needed him most.

"He's made me hate him,' she said. "I really needed him to stay with me and I assumed he would. But he got on a flight and went abroad to work, leaving me to just get on with it. It was horrible. I'm so angry at him."
Support poured in on Twitter as the episode aired - both from fans and TOWIE cast members.
"Thank you so much for all your support. If anyone has been affected by my story then you can speak to @samaritans for support xxx", Dannielle wrote.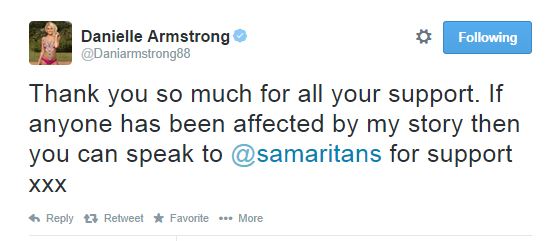 James was also affected in the episode, emotionally telling Bobbi Norris how much he regretted leaving her.
"Danni hasn't stopped crying and it's all because of me," he tearfully said.
"Don't get me wrong, I didn't think it was the right time for us to have a baby but for that choice to be taken away from her was devastating.
"After it happened, I asked if it was okay to go to work and she said yes - so I thought it was cool. But when I came back, she wasn't fine at all. She was in bits."
Admitting the relationship might be damaged beyond repair, James confided, "Me saying sorry isn't good enough."
"I feel like we've both got a lot of issues and that's why we're on the rocks. I love you so much but I don't know how we are going to get from where we are now to where we want to be."