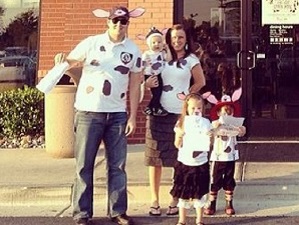 It looks like this reality TV family is about to get even bigger.
Josh Duggar and his wife Anna, stars of TLC's show 19 Kids and Counting, are going to be parents once again.
Anna took to social media to share the wonderful news, tweeting: "We are so excited to announce…we're pregnant!"
This will be baby number four for the couple, who are already parents to five-year-old MacKynzie, three-year-old Michael, and one-year-old Marcus.
Anna followed up her pregnancy announcement with a special video message for fans of the reality show.
Admitting that her pregnancy has not been easy so far, she added that she is coping well.
"I am nine weeks pregnant and I'm having a lot of morning sickness, so it is difficult, but it's good because I know that good things are happening," she said.
This latest happy news comes after the announcement that Josh's sister Jill is expecting a baby boy with her husband, Derick Dillard.
It looks like the Duggar family have a very busy few months ahead, but they are no doubt well prepared.