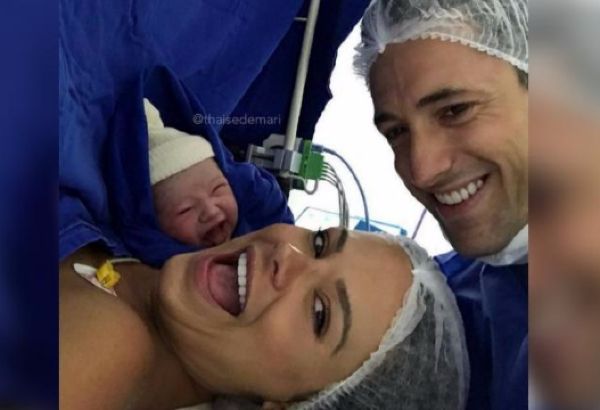 Sometimes, it is the most unexpected pictures that get the most likes, and wind up going viral for all the right reasons.
Thaise de Mari, a Brazilian fashion blogger and mum of adorable little Carmel, recently shared a picture that was worlds away from her usual aesthetic - and the Internet LOVED it.
Thaise has an impressive Instagram following of over 240,000 people, and typically shares beautifully edited fashion pictures - looking #flawless at all times.
However, in January, the new mum posted a picture that captured the hearts of thousands of people across the globe.
In the image, we see the new mum and her partner, just moments after their daughter was born via C-section.
The couple are both in blue scrubs, with Thaise still lying down on the operating table, with no makeup on and looking absolutely delighted.
Also delighted is baby Carmel, who appears to be grinning from ear to ear, having finally met her gorgeous mum and dad.
In the picture's caption, the new mum highlighted the fact that she was wearing no makeup, had been crying, and had no worries in the world - other than her beautiful new baby girl.
Thaise also mentioned that it was the craziest moment of her life, and that she would love to go back in time to relive it all over again - just to see baby Carmel's face for the first time once again.
The photo has been liked over 18,000 times since it was uploaded, with over 400 people commenting to share in the beauty of birth.
"She is smiling, too!" pointed out one follower, while another said, "This Carmel smile is priceless."
Thaise glamourously documented her entire pregnancy, appearing to be extremely comfortable in front of the camera, showing of her bump as often as possible.
We absolutely love this picture, that shows just how amazing it is to bring a child into the world - whether it be via C-section, through a vaginal birth or adoption. You have a baby - and that is all that matters.