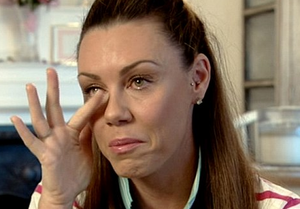 Michelle Heaton, former Liberty X star, has opened up in her OK! Magazine column about the hysterectomy she underwent on October 2nd.
The mum-of-two decided to have the procedure carried out because she carries the BRCA2 gene which gave her a 30% chance of developing ovarian cancer. This is not the first major operation 35-year-old Michelle has had to go through in recent years as a result of carrying the fatal gene.
Having learned she had an 80% chance of being diagnosed with breast cancer, the brave singer had a double mastectomy in 2012.

Speaking about her most recent operation, Michelle reveals: "I was in hospital and bed-bound for four days. It's been a tough, stressful, painful and emotional thirteen days."

The positive-thinking star admits, however, that looking at the children she shares with husband Hugh Hanley, 2-year-old Faith and 8-month-old AJ, helps her deal with her decision to undergo the life-changing surgeries.

She says: "When I really look at my children, I see the reason I underwent this life-changing op and that's to be here for them and to hopefully eliminate the chance of them having to see their mum go through what my dad saw with his, and her with hers and so on."

Michelle appeared on Good Morning Britain yesterday to support the Bin Your Bra campaign which raises money for breast cancer research. Despite still being in recovery from her operation, Michelle looked healthy and says: "I don't have time to feel sorry for myself."

We think Michelle is an incredibly brave and admirable young mum.