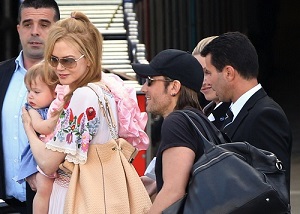 He is a doting dad to two adorable little girls, and to look at him from a distance, you would think that singer and reality star Keith Urban was a natural when it came to fatherhood.
But, as he revealed in a recent interview, this is not the case, and he has wife Nicole Kidman to thank for teaching and guiding him through his role as a dad to their daughters Faith, 5, and Sunday, 7.
Speaking to The Huffington Post, the 47-year-old said that Nicole has played the biggest role in helping him ease into parenthood.
"I've got to say, I'm learning the most from Nicole about that. She raised two kids [Conor and Isabella, her adopted children with ex-husband Tom Cruise] before her and I met, and so much of what she has learned has come into play in our family in such a beautiful way," he said.
In a sweet tribute to his wife of nine years, he added: "I'm so glad that Nicole is their mum…I'm just very grateful."