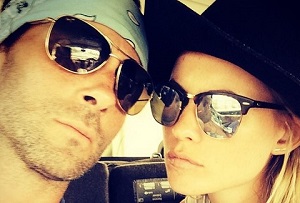 They tied the knot back in July of last year, and already babies are at the fore of singer Adam Levine and wife Behati Prinsloo's plans.
The Maroon 5 frontman opened up on the couple's desire to start a family in the near future, during an interview with E! News.
When asked by his The Voice co-judge Christina Aguilera when he and his model wife would be starting a family, the 35-year-old replied: "Oh dude, soon. I don't know Christina. We're looking at the next year. We have some time. Next spring."
It's certainly a more definitive response to the last time the Sugar singer opened up about starting a family, when he said he hoped to have "more kids than would be socially responsible".
In an interview just a month after wedding Bahati in an intimate ceremony in Mexico, the singer said: "We're definitely going to do it. I want to have 100 kids…I don't know when we're going to do it. We can't do it right now. I think it's absolutely in the works for some future date."
He certainly sounds excited at the prospect of becoming a father! It looks like we'll have to watch this space.