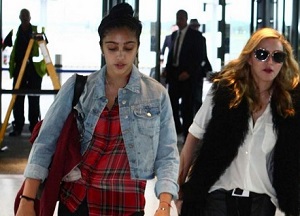 Watching your not-so-little one heading off to college rouses a range of emotions, from pride to plain devastation.
One person who experienced the heartbreak of watching her eldest flying the nest is singer Madonna, whose daughter Lourdes enrolled in the University of Michigan last year.
Appearing on Australia's Today Show this week, the Rebel Heart singer revealed that watching her 18-year-old leaving to follow her own path was particularly painful.
"It's hard letting them go out into the world but when she left home to go to college I was a mess," said the 56-year-old.
In an admission that many parents will be able to identify with, she added: "It was really hard letting her go. I've come to terms with it but yes I miss her and she's a part of me, it was like losing my arm."
Lourdes, whose nickname at home is Lola, is Madonna's daughter with actor Carlos Leon. The stunning teenager is set to follow in her mum's footsteps, it seems, having enrolled in the University's School of Music, Theatre and Dance.
Whether it's leaving them on their first day of preschool or packing them off to college, we're sure plenty of you can identify with Madonna's thoughts and emotions here.