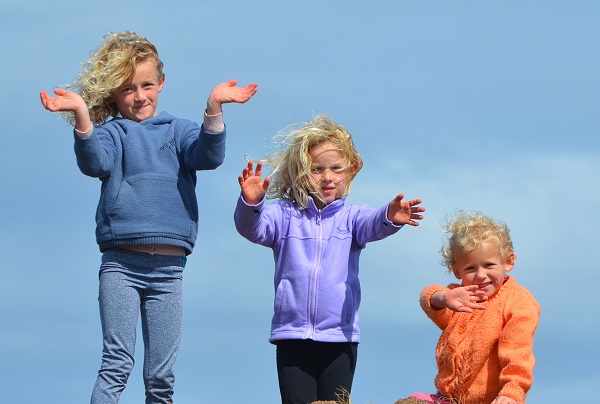 As parents, we're constantly looking for ways to make sure our children grew up to be healthy, happy and emotionally well adjusted.
Well good news,you don't have to do it all yourself. According to a recent study, siblings teach each other empathy.
Phew, at least that's one off the list!
According to a study carried out by four different universities in Canada and Israel, children who have kind and supportive older siblings are more empathic than children whose siblings lack these characteristics.
But don't worry about your eldest just yet, researchers found that both older and younger siblings positively influence each others' empathic concern over time.
"Our findings emphasise the importance of considering how all members of the family, not just parents and older siblings, contribute to children's development," suggested Professor and study co-author Sheri Madigan.
"The influence of younger siblings has been found during adolescence, but our study indicates that this process may begin much earlier than previously thought," she told The Huffington Post.
Studying 452 pairs of ethnically-diverse Canadian siblings, researchers looked at whether younger siblings also contribute to their older sisters' and brothers' empathy in early childhood.
In order to measure levels of empathy, researchers taped interactions between the siblings and questioned mothers. They also tested how the children reacted to a fake upset (breaking a toy) and fake injury (hitting a knee).
Researcher at The University of Toronto, Marc Jambon, says that results showed that both older and younger siblings foster empathy in each other.
"Although it's assumed that older siblings and parents are the primary socialising influences on younger siblings' development (but not vice versa), we found that both younger and older siblings positively contributed to each other's empathy over time," he explained.
To make matters even more interesting, the development of sibling empathy was unaffected by background or even parenting style. So that means you're off the hook on the empathy front!
"These findings stayed the same," Jambon confirmed. "Even after taking into consideration each child's earlier levels of empathy and factors that siblings in a family share - such as parenting practices or the family's socioeconomic status - that could explain similarities between them."
Researchers also looked at different age ranges and gender pairings (big sister/little brother, big brother/little sister), and they found one surprising exception.
"The effects stayed the same for all children in the study with one exception: Younger brothers didn't contribute to significant changes in older sisters' empathy," Jambon revealed.
Parents can encourage sibling empathy by fostering a strong relationship between siblings from early on (and being a constant referee in squabbles). Siblings also form examples as role models and examples of how not to behave.
This is not the first study to note importance of siblings in a child's development. An other study from the University of Illinois showed that while children learn social skills, such as manners, from their parents, siblings are integral to developing informal behaviours such as making friends and socialising.
Don't worry if you have an only child, however, past research suggests that similar socialising traits can be gained from fostering relationships with friends and cousins.
So there you go! You've a lot to thank you siblings for- and we're not talking about borrowing your sisters favourite lipstick or scratching your brothers car!