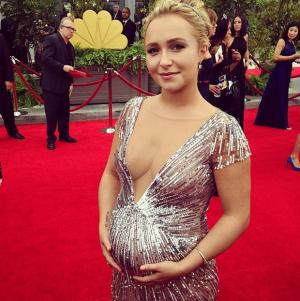 Heroes
star Hayden Panettiere only confirmed her pregnancy last week when she accepted her ALS Ice Bucket challenge, and now that it's all out in the open, she seems delighted to talk about becoming a mum for the first time.
Hayden wowed in a floor length, glittering Lorena Sarbu gown at the Emmy Awards last night, and when she was asked about her pregnancy on the red carpet, she casually made reference to her baby's gender:
"I'm thrilled! I can't wait for her to come out!"
So it looks like a little girl is on the way for the actress and her world champion boxer fiancé Wladimir Klitschko.
She also talked about how she's been craving chicken noodle soup, and what it's been like dealing with the extra weight:
"I've never felt this amount of weight on me.
"The only thing that's difficult is making sure that it's tucked away."
Well Hayden looked amazing last night, so we don't think she has anything much to worry about.