Kim Kardashian recently said that she didn't trust husband Kanye with baby North, and it seems we have another celebrity who needs the support of his wife when it comes to looking after their children.
Former The Hills star Kristin Cavallari has shared some hilariously frantic messages she recently received from her football star husband Jay Cutler when he was at home alone minding their children, two-year-old Camden and eight-month-old Jaxon.
A screenshot of Jay's messages to Kristin, shared on her Instagram account, read: "Need u home asap. All hell has broken loose. Jax is in his crib. Cam refuses to eat. I'm about to leave."
Clearly cracking up at the urgency of her husband's texts, Kristin wrote beside the photo: "Contrary to what many people think, we don't have a thousand nannies. So with that being said, when I got home from LA two days ago this is what I landed to. Pretty hilarious. Ladies, you want your man to appreciate you? Leave them alone with the kids to see what we deal with!"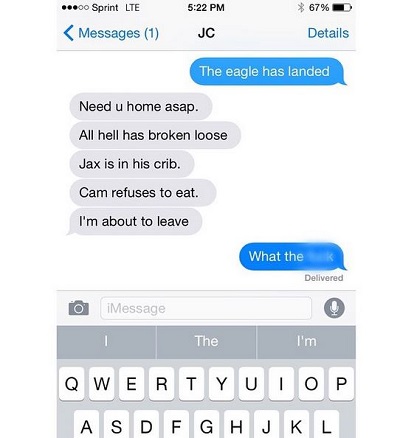 Appearing on a TV show via Skype after the messages went public, the 28-year-old mother-of-two said that she was "dying laughing" when she received the texts.
"It's something that every parent can relate to, so I was just laughing my butt off, and I thought it would be hilarious to post it," she said.
How many of you mums have received similar messages from the other half?