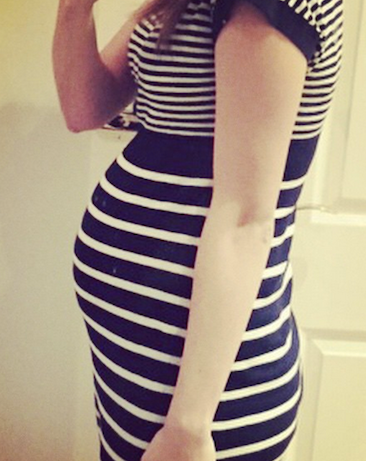 Mum-to-be Jacqueline Jossa, who turned twenty two last month, has taken to Instagram to share her burgeoning bump with us and it's adorable!

The Eastenders star, who is expecting a baby early next year with TOWIE star Dan Osborne, is clearly enjoying her pregnancy and keen to share the various stages of the journey with her fans.

Jacqueline hasn't had the easiest of times of late as her relationship with reality star Dan has been dogged by rumours of infidelity and inappropriate behaviour, but the young actress has done a fantastic job of ignoring the critics and focussing on herself and her bump.

Enjoying a girlie night out with friends in recent weeks, Jacqueline looked the picture of health and there's no doubt that pregnancy suits the young mum-to-be, but she has revealed that she's still getting used to the various stages of pregnancy and recently tweeted: "Why do I feel like I'm going to have a nosebleed when I am in a shopping centre, is it something to do with pregnancy or am I just odd?" Strange things can happen!

The stunning brunette's latest snap shows her in a navy and white striped nautical themed dress which hugs her lovely bump and the clearly excited mum-to-be captioned the post: "Growing!!!!! Babyyyyyy"

Aw, her excitement is contagious!