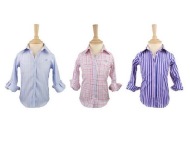 Brit Chic is excited to announce another great brand to join their growing collection. Children's clothing brand Wolf in Sheep's Clothing (WISC) pride themselves on using the best fabrics from around the world to create their 100% cotton stunning, tailored button shirts.
WISC are specialists in creating an effortless style for your little ones to model for any occasion.
Here at MummyPages we were delighted to learn that WISC's new range of shirts are made exclusively in Great Britain, ensuring the craftsmanship and detail given to each product is second to none in the industry. It is no wonder that customers are instantly hooked from their first purchase.
Brit Chic offer a diverse range of products which include clothes, shoes and toys with varying prices from a couple of pounds for beautifully personalised gift cards to thousands of pounds for a magnificent antique oak rocking horse. Whatever your budget, Brit Chic has something for everyone.
Brit Chic is fast becoming one the most popular children's clothing website in the UK and it is no wonder with their growing range of popular and sublime brands from across the UK. Brit Chic class them-selves as being "essentially very British", an apt term for their host of British-made products. All Brit Chic Signature products use material sought from within the UK, so by purchasing one of Brit Chic's exquisite, British made products you will also be supporting British talent, creativity and innovation.
To purchase these exquisite shirts or to view Brit Chic's full range of products visit
www.britchicuk.co.uk