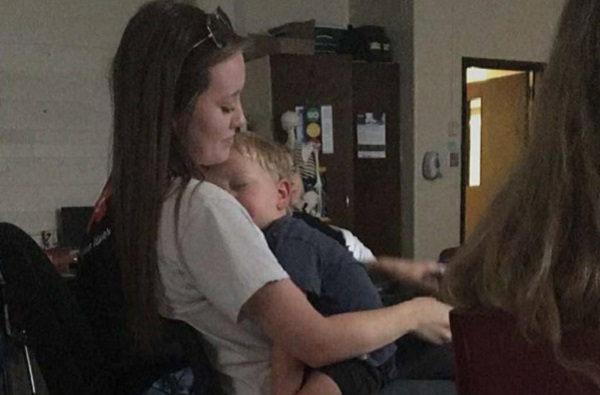 The sibling bond is like nothing else in the world. One minute they could be at each other's throats, and the next they're partners in crime.
But this brother-sister duo is taking the prize for cutest pair, by a mile.
Candice Curry called her 17-year-old daughter, Stiles, to pick up her three-year-old brother while she was dealing with a family emergency.
Curry assumed that Stiles would take the last class of the day off to bring her brother home.
But she didn't.
Curry explained that she assumed the pair had gone straight home, until she saw her daughter's Snapchat that evening.
Rather than skip class, Stiles brought her brother along.
We cannot get over how cute this pair is. She's juggling schoolwork AND cuddling her baby bro.
Curry was overwhelmed by the love shown between the two:
"I'm not sure on the legalities here or what kind of rules were broken but I also just don't care. My sweet teenager helped her family out and returned to her other responsibility while snuggling her baby brother."
"I'm either the worst mum in the world or totally nailing it," she continued. "Please don't tell me which one, let me live in ignorant bliss while I stare at this picture."
We definitely think it's the latter.
As for the teacher? He was happy to let the little student sit in on his class- as long as he promised to behave.
Somehow, we don't think that was an issue!
"Life is short," Curry concluded. "These are the moments that make it so incredibly sweet."
She's got our vote for big sister of the year!