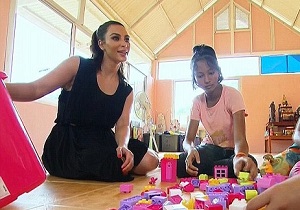 An 'orphan girl' from Thailand has revealed that she declined Kim Kardashian's offer to adopt her.
The 13-year-old girl named Pink met the reality star during the Kardashian clan's visit to her poverty-stricken village in Thailand last April, and the pair made an immediate connection.
Indeed, Pink's positivity and smile supposedly captured Kim's heart, with the star going on to visit her home twice, expressing her desire to adopt the child.
During the filming of the segment for Keeping Up With the Kardashians, the 34-year-old told the camera: "When you meet someone that you really connect to like this, you can't help but think how you could change their life. And I think that looking into adoption would be amazing."
She later added: "I literally cannot stop thinking about her. I told Kanye, I was like, honestly, this girl is so sweet and so cute, like, I would honestly adopt her."
While Pink says she was 'shaking with excitement' when she was told about Kim's comment, she reveals that she turned the offer down in favour of helping to rebuild her village, which was destroyed in the 2004 tsunami.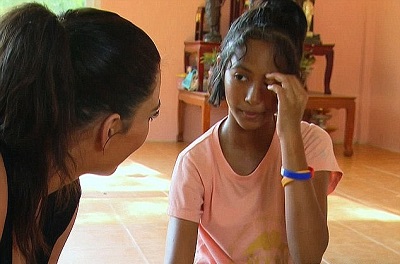 The 13-year-old recently said: "Everyone wants to have a different or a better life, I suppose. But when I thought about it I realised it wouldn't be good for me, because I would have to leave so much behind. I wasn't ready for that."
Had things turned out differently, it would have meant a total life change for Pink, who sleeps on a mattress on the floor of a basic shared dormitory.
Speaking about her fondness for Kim, Pink described her as 'lovely'.