The BBC has brightened up this miserable Tuesday by releasing a teaser trailer of the Gavin and Stacey Christmas Special.
Fans have been patiently waiting for a glimpse at the comedy's return and we're honestly way too excited about it.
THIS ISNT A DRILL #GavinandStacey pic.twitter.com/aV2N6V86Er

— ashleigh (@ashle1ghm1lls) November 25, 2019
In the 30 second-clip, Uncle Bryn has a meltdown as he tries to cook Christmas dinner. We've all been there, Bryn.
Bryn rushes around the kitchen and calls for help, "Gwen, Jasone, anyone" he calls into his walkie talkie.
Stacey is setting the table in the living room when she hears a huge crash come from the kitchen. She runs in to find Bryn trying to salvage the remains of a bread and butter pudding off the floor.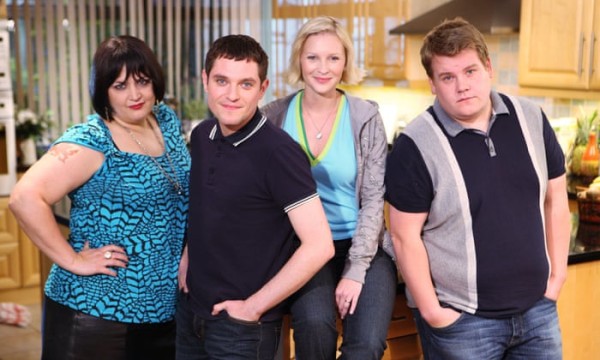 "Would you kindly inform everyone that dinner is ever so slightly delayed," he mutters.
There's no doubt the Christmas special will be as hilarious as the original series.
The BBC even released the first official cast photo and our hearts can't cope.
It's Christmas!!! #GAVINANDSTACEY pic.twitter.com/j6hQk8zS0t

— Joanna Page (@jopage_) November 26, 2019
Matthew Horne, Joanna Page, Ruth Jones, James Corden, Rob Brydon will return for the Christmas special.
Melanie Walters, Larry Lamb, Alison Steadman and Robert Wilfort will also reprise their roles in the Bafta-winning series.
The Gavin and Stacey Christmas Special airs on BBC One on Christmas Day.
Feature Image: BBC