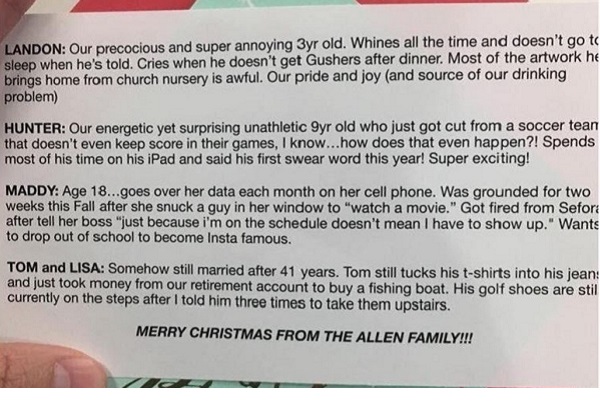 At this stage of the holidays you've probably received enough perfect family Christmas cards to keep you reading till Easter.
As lovely as it is to receive cards from friends and family you mightn't have seen in a while, it can still be quite tiring to hear over and over again how wonderful everyone else's lives are.
Well the Allen family have turned that on it's head with a searingly honest Christmas card detailing how the year went for each family member. It's hilarious:
Brutally honest Christmas card from funny
The card, written by mum Lisa, brings us through each member of the family, starting with the youngest, Landon:
"Our precocious and super annoying three year old. Whines all the time and doesn't go to sleep when he's told. Cries when he doesn't get Gushers after dinner."
Instead of gushing over little Landon's artistic ability, they don't hold back: "Most of the artwork he brings home from church nursery is awful," Lisa writes. "Our pride and joy (and the source of our drinking problem)."
Next they move on to their "surprisingly unathletic" nine-year-old, whose biggest achievements its year were being cut from the soccer team and learning his first swear word, "super exciting!"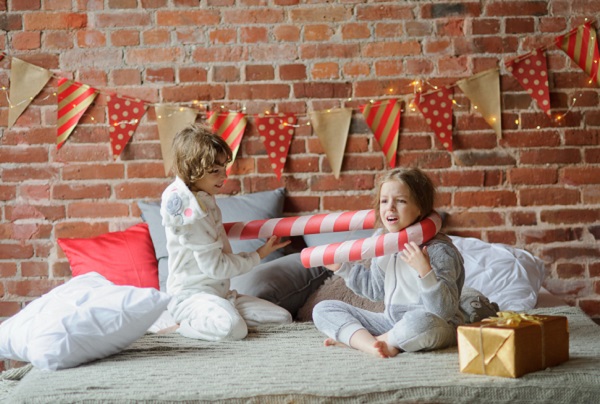 They then come to their eldest bundle of joy, 18-year-old, Maddy who "goes over her data each month on her cell phone". Delightful Maddy's year includes being "grounded for two weeks for sneaking a guy into her room to "watch a movie"" and getting fired from Sephora for telling her boss that "just because I'm on a schedule doesn't mean I have to show up".
Things are only looking up for Maddy though as she plans to "drop out of school and become Insta famous."
If you think the roller-coaster of funniness stops with the kids you are dead wrong. The parents, Tom and Lisa, are not spared at all:
"Somehow still married after 41 years. Tom still tucks T-shirts into his jeans nad just took money out of our retirement account to buy a fishing boat. His golf shoes are still currently on our steps after I told him three times to take them upstairs."
Reddit loved it, and so do we:
So refreshing to see such honestly in the festive season, we'd love to be a fly on the wall for that family dinner.