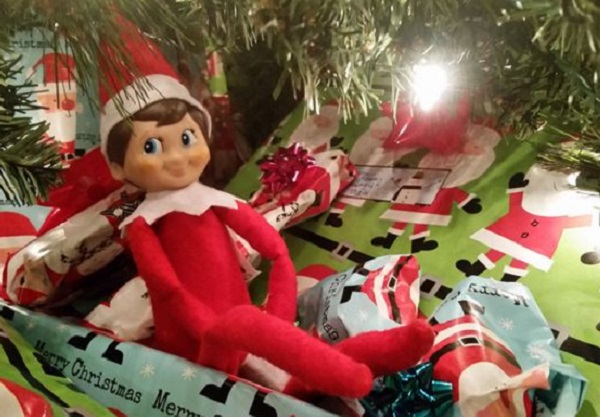 Elf on the Shelf, while it is a lovely tradition, can be a bit exhausting for some parents.
Between making sure the kids don't touch it (so they don't lose their magic, of course) and coming up with creative places to move them to each night, the Elf on the Shelf can turn into a Handful on the Mantel.
But one mum has come up with a perfect solution for her Elf conundrum.
Christy Heins, mum-of- three, has put George the Elf into retirement:
In her recent Facebook post, Heins shares her reasoning for sending George into retirement:
"I know that some people truly enjoy setting up elaborate scenes with their elf, but for me, cleaning up after 3 children and a dog is enough.
I forgot to move him more times than I can even count, and I cut it close a few times trying to sneakily move him after the kids were already awake."
She said that not only was George causing her unnecessary stress, but that his presence hadn't returned any improvement on her three girls behaviour.
Heins, however, does her best to keep the Christmas spirit alive. In George's retirement letter, written by the Big Man himself, the reasons for his retirement are lain out:
"I think you will be pleased as peppermint to learn that George Elf had a very, very special Christmas wish this year. He has enjoyed you three girls so much over the years that his only wish for Christmas this year was to be a REAL toy in your house."
The letter explains that even though some elves like flying back to the North pole each night, each elf has a different personality:
"But just like people, each elf is different. George Elf wanted more than anything to be played with like a real toy. He saw the excitement and happiness in your eyes each morning when you found him, and he wanted you to be able to touch him and play with him just like your other toys."
"He thought it would be fun to hide one more time for you to find him. He knows that once you touch him, he will lose his magic to be able to fly and that's okay! That's what he really wants! He wants you to play with him and treat him like a member of the family from now until Christmas."
In a follow up post, Heins said that her girls were thrilled with George's retirement:
She wrote that the girls were "thrilled" with George taking an early retirement:
"They think it's so special that George wants to be part of our family. He definitely got the royal treatment today, including his very own bed and about 52 bedtime stories."
We're so glad that it worked out well for the family, and who wouldn't want an early retirement?!