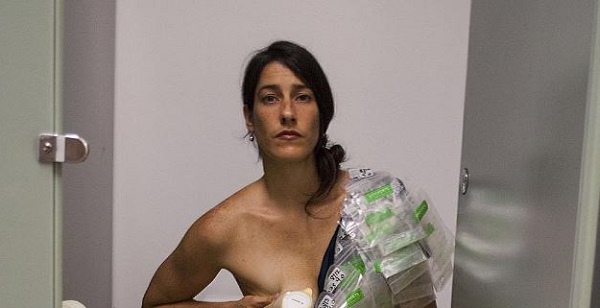 Kasey Jones is a total legend, and when you check out her latest Instagram posts, we just know you are going to agree with us.
Kasey has become a viral internet sensation this week, after going to work wearing a 'suit' made out of breastmilk bags – to highlight the truth about the treatment of mothers in modern society.
The photos show Kasey wearing her 'Working Mother Suit' in a series of different office situations, from pumping in a bathroom stall to working – sleep-deprived – at her desk.
Explaining the inspiration behind her powerful photo series, Kasey explained: "For her first year of life I pumped over 14 gallons of milk in order to work part-time. I went back to work when [my daughter] was four weeks old."
"The pressure to breastfeed and the pressure to go back to work as quickly as possible in our society is incomprehensible. Our effort goes unnoticed and that weighs heavily on our mental health," she lamented.
Kasey is serving as a mouthpiece for an entire generation of mothers who are fed up of having to pump or feed in a bathroom, go to work on zero hours' sleep, and sacrifice 'me time' in order to start and raise a family.
"How we treat mothers in our society reflects what we value the most and what we value the least," she wrote, rather tellingly, beside a photo of herself pumping on the toilet.
It's no wonder that Kasey's photos have gone viral – they have really struck a chord, and it's time the 'powers that be' stood up and took notice.
SHARE to spread Kasey's amazing photos with mums everywhere.