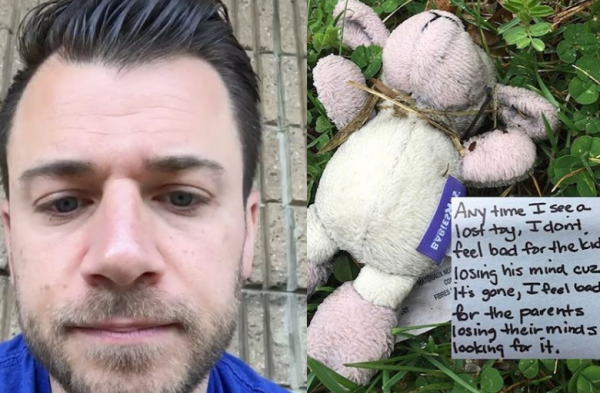 As any parent will know, a day spent caring for a child can be exhausting and often overwhelming. With so much to do, and so many errands to run, sometimes we can be left feeling uninspired by the time bedtime comes around.
Chris Illuminati is someone we can all learn a lesson from. The father-of-two, who quit his job seven years ago to look after his kids full-time, has used humour to, quite literally, illuminate (see what we did there?) his days.
On his blog, A Message With A Bottle, Chris explains that when he made the decision to look after the children full-time, his wife advised him to write down every single task and responsibility for the day ahead.
As a naturally funny guy, Chris decided to have a little fun with his wife's advice, and began leaving some truly hilarious post-its - containing tongue-in-cheek nuggets of advice and fatherly insights - around his house.
One glance at his Instagram page - which has drawn in thousands of appreciative and entertained parents - and you will immediately understand why Chris has become such a popular blogger.
His most recent advice, on how to calm a 'tantruming three-year-old' reads: "Let her get some crying out, then get down on one knee, pull her close, hug her and stroke her hair. Then whisper in her ear, 'F***ing chill, bro.'"
The page also shares other important nuggets of wisdom that we can probably all take on board, such as the one that accompanied a set of razor-sharp colouring pencils.
It read: "Parenting tip: Invest in a pencil sharpener. Parenting safety tip: Don't set it to 'make weaponry.'"
Chris also has some interesting insights into popular culture, as he revealed in a note after his toddler developed a liking for Taylor Swift.
"The three-year-old recently discovered Taylor Swift. And I've recently discovered a sound-proof hole in the wall of our basement," he joked.
We would imagine that a day in the life of Chris Illuminati is primarily taken up with side-splitting laughter! Well done to this hilarious father for sharing such a unique and entertaining insight into his life as a parent.