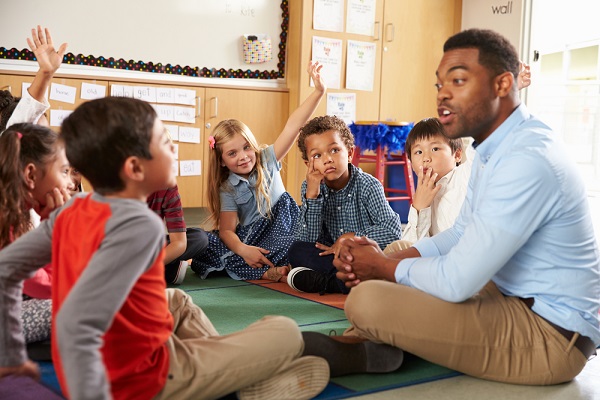 Teachers are pretty awesome. As a parent you place a lot of trust in them, handing your little one over for the majority of the week.
Not only do they impart wisdom and encourage growth, they also inspire- and sometimes, they can have a big impact on who you turn out to be.
Matt Moore, an American journalist, first shared his inspiring teacher stories.
What teacher made the biggest impact on you and what did they tell you that stuck with you?

— Hardwood Paroxysm (@HPbasketball) February 27, 2018
I had several, my journalism teacher Mr. King who told me I needed to stop avoiding being a writer was one.

Also Coach Bishop for AP History who told me I needed to stop thinking what I had to say was so important all the time, shut the hell up and listen.

— Hardwood Paroxysm (@HPbasketball) February 27, 2018
Oh, and Mrs. Bird who told me it was unacceptable and quite frankly embarrassing that I engaged in such woeful commitment to avoiding a challenge.

— Hardwood Paroxysm (@HPbasketball) February 27, 2018
The responses he got were exactly what we needed to warm our hearts on this cold, snowy day.
Simple. Her name is @micheleadams801 and she never let my blue mohawk or salty language stand in the way of her believing that I'm still a real person and can have a real future. Legitimately helped me cross the line from rapidly destructive teen to hopeful, hardworking man.

— have thoughts, will travel (@GoGoGaryUnicorn) February 27, 2018
My composition teacher in high school who would return my papers bleeding in red ink while everyone else just got a letter grade. Asked her about it once and she said something like "You, my dear, have a chance of being good at this." https://t.co/kLBEWRmQnu

— Benjamin Hoffman (@BenHoffmanNYT) February 27, 2018
Mr. Lorenc — English/Literature teacher in high school. Told me I could write an A- term paper in my sleep but he wants to see what it's like when I write one fully awake. https://t.co/hTglwfuuZa

— Zach Harper (@talkhoops) February 27, 2018
Professor Carey O'Donnell was a business professor, but he urged me continue writing about sports and comedy. Told me "don't waste a talent because people tell you there's no money in it. Money comes when you put 100% into what you love". Never forgot that https://t.co/dNkyel0x8t

— george kondoleon (@georgeythegreek) February 27, 2018
5th-grade teacher Mr. Bryant. Showed us the importance of learning about other cultures. Taught us the basics of understanding the Chinese language in both spoken and written word. Took us to Chinatown in Chicago. Taught us how to make egg rolls in class. Guy was pretty awesome https://t.co/1lmcN15rac

— Stephon (@SMosley21) February 27, 2018
9th grade algebra teacher, who pulled me aside after getting a C on a test and asked what happened. Told her i've never been good at math and all my old teachers can attest to that. She said "well fuck them" and i never got lower than a 90 on her tests throughout that year https://t.co/YV7QgnAw8p

— Dwyane Wade's Prodigal Son (@JustinWindows_) February 27, 2018
10th and 11th grade History Teacher, Mr. Dowdle. He made us confront the ugly and hard things in history. We had to talk about them, have civil discourse even when we didnt agree. We had to learn to understand others.

— Brady Withers (@freddyfromutah) February 27, 2018
Not only did these teachers do a fantastic job, but in some cases they changed the futures of their students through a kind word or act.
11th grade construction teacher pulled me aside one day and said that I'm really smart and good at this and if I ever considered engineering. Career path was made that exact day. https://t.co/Ol8dS5OA8J

— Reez (@FareezyCheesy) February 27, 2018
High School math teacher & coach Mr. Noem told me after a horrible day,"You're a leader, so start acting like it."

Also, my stats teacher Mr. Aho. He didn't say anything, but knew I was gifted in Math. So, he always had a challenge problem for me to work on when I was done. https://t.co/rES520uHsT

— Barry D. Jacobsen (@bdjacobsen) February 27, 2018
We're going to need some tissue!