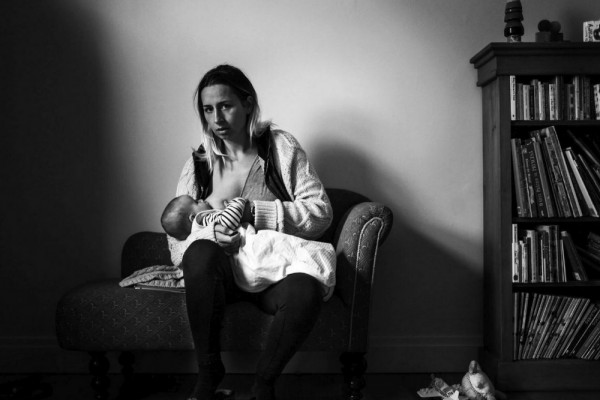 We've all seen photos of glamorous celebrities such as Miranda Kerr and Gisele Bundchen breastfeeding their babies just before a photoshoot.
Naturally, the supermodels look flawless and relaxed, while posing in a bathrobe, and while the photos might be beautiful, they certainly aren't relatable.
For mums breastfeeding at home in old clothes and those struggling with breastfeeding, these images are not very helpful.
Australian artist and mum-of-two Suzie Blake was tired of constantly seeing these depictions of breastfeeding and decided to create an alternative realistic portrayal.
She feels that "There is a distinct lack of authenticity in images of women breastfeeding. Most photos are highly stylized, fetishistic or unrealistic; many are sheer fantasy."
"This project is about portraying breastfeeding in all its beautiful messiness. This is about tired eyes and no make-up. This is about milk leaks and ratty hair."
"This is about giving in to all the demands of your two year old while you try to feed your newborn."
"This is about dishes piled up in the kitchen and dirty laundry building in the corner. This is about let down milk sprays in cafes and engorged breasts at the park."
"I wanted to show how normal breastfeeding is. A lot of the time it's not mum gazing into baby's eyes adoringly, although it can be and that's a wonderful, intimate part of it."
"For a lot of mums is just a part of everyday life," she told Fit Pregnancy.
She created a project called "What does breastfeeding look like?" and kicked it off with a self-portrait of herself breastfeeding her youngest son Xavier, 8 months with her three-year-old Maximiliano sitting beside her.
She began to reach out to other women, asking them if they would submit photos of themselves breastfeeding their children in everyday scenarios.
Lots of women were happy to get involved and share their own photos.
"Most women have never even seen another woman breastfeeding. In addition to this, most women are faced with stereotypes of other women breastfeeding, so it's no wonder that most women just give up altogether", Suzie explained.
"Breastfeeding is a massive global health issue and one that we need to tackle. In order to help women, we need to empower them," Suzie says in a video for the project.
Although most people have supported her venture, some have been critical. But Suzie says the negative feedback has only encouraged her to continue her work.
"On social media some people are very aggressive with their opinions and also very misinformed. It made me realize even more how important this project and breastfeeding advocacy is."
We think these photos are beautiful and so much more relatable than the airbrushed celebrity photos.