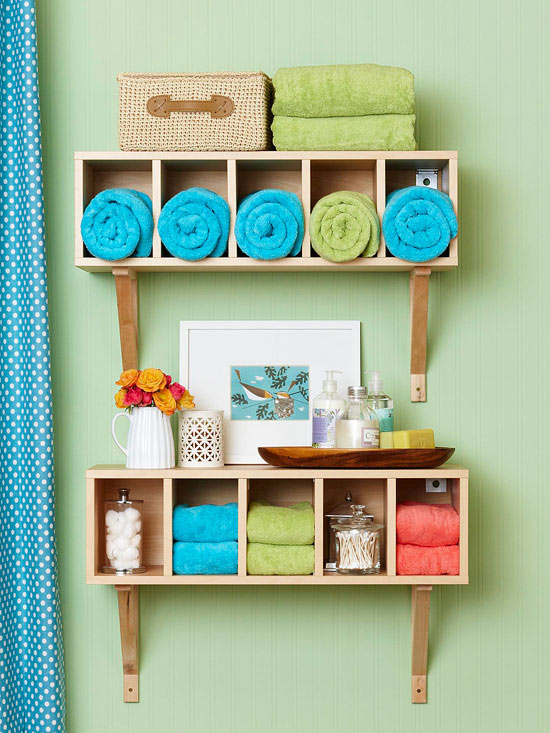 Your bathroom doesn't have to be spacious to look stylish and sophisticated.
Here are a few decorating tips to help you make the most of your smaller bathroom.
1. Use a soothing palette
Neutral tones of white, off-white and tan create a calming feel in a small bathroom, and gives it a more spacious look.
2. Use clever lighting
A well-lit bathroom adds freshness and space. Well-placed wall sconces in your bathroom will open it up, while adding a touch of style to the space.
3. Organise
No matter what size your bathroom is, it's always going to function much better when it's well-organised. Assess the situation: Do you have (or can you install) a medicine cabinet for extra storage? Is there a place in the shower to add a glass shelf? Is there space to place a small cabinet? Don't just fill the room with storage, but have an honest conversation with yourself about the items that you need access to on a daily basis.
3. Add a row of tile
Add a row of contrasting or decorative tile to act as a backsplash and add interest to a bathroom that's short on space. This is also great for budget-friendly re-models since you need only a small amount of tile.
4. Farm it out
Find another place to store those 'non-essentials' to de-clutter your bathroom. Maybe there's a linen wardrobe you can use to store extra towels and bath supplies, for example.
5. Pops of colour
In an all-neutral bathroom, add pops of colour with fresh flowers in a simple vase on the vanity. It's effortless, inexpensive, and easy to mix up the palette and accessories with each new bouquet.
Image via Pinterest.