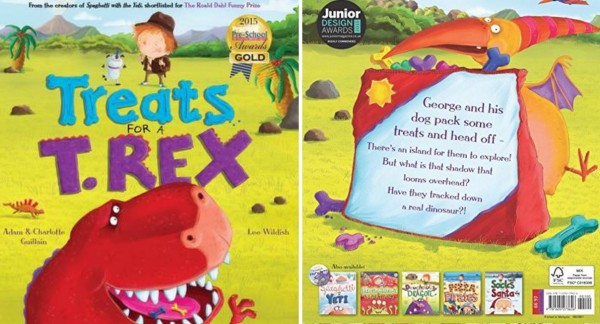 Our fearless hero George returns for a sixth rip-roaring adventure in Treats for a T. Rex. This time, he cleverly crafts a hang glider for a mission to find the lost world of dinosaurs, and hopefully a T. Rex as well.
As they find an island to explore, the friends set off on an adventure of a lifetime to find real-life dinosaurs! But will George and his faithful puppy Trixie get gobbled by a T. Rex? And will Trixie's treats and tricks save their skins?
With fun, colourful illustrations and a rhyming tone throughout, this is one book that the kids - dinosaur-mad or not - are SURE to fall in love with!
Another fantastic rhyming tale from the husband and wife duo Adam and Charlotte Guillain, whose George's Amazing Adventures titles have been nominated for the Roald Dahl Funny Prize, Portsmouth Book Award, Sheffield Children;s Book Award and many more.
Published by Egmont Publishing, it will be available from Thursday, 2nd June.
SHARE if you plan on buying it!