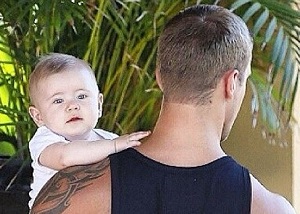 It's so lovely to watch your baby's delight when they discover something new for the first time, so we can completely understand how reality star Dan Osborne was feeling when he posted his latest video of his son.
The TOWIE star took to Instagram to share an adorable video of his 11-month-old son Teddy dancing giddily to an Ed Sheeran video on the television.
Proud dad Dan wrote: "My boy may not be able to walk yet…But he can sure dance to Ed Sheeran!!"
This is the latest of a series of videos that Dan has recently shared with his followers, documenting this exciting time in Teddy's life.
Just last week the star, who is expecting his second child with girlfriend Jacqueline Jossa, posted a video of little Teddy saying some of his first words, including 'dad' and 'dog'.
Bless him, he is one adorable and happy little fellow.
Dan has previously expressed his excitement at the prospect of becoming a dad again, saying that he and Jaqueline would like to have a big family together.
Well, it sounds as though we will have plenty more cute videos to look forward to.