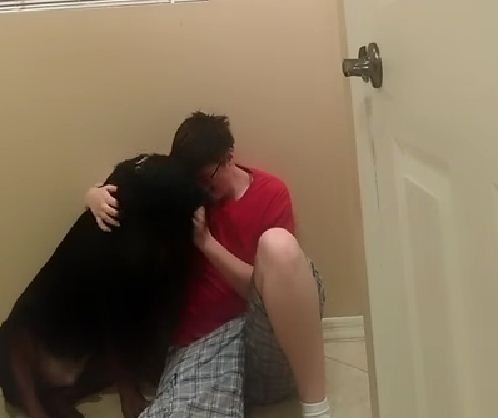 While we regularly hear incredible stories of service dogs tending to their owner's needs , it is not often we see it in action which is probably why this heartwarming footage has amassed almost one million hits since its upload at the beginning of the month.

Paying tribute to her service dog Samson, Danielle Jacobs, who lives with Asperger's Syndrome, posted a video of herself during an extremely emotional episode brought on by the condition.

Explaining the situation, Danielle wrote on her YouTube account: "This is what having Aspergers is like. It's not easy to open myself and share what it's like on a daily basis. This is what's considered a meltdown."

Upon seeing that his owner was in distress, Samson attempted to calm Danielle by capturing her hand in his paws to ensure she didn't injure herself during the outburst.

Lying across her body as she cried, Samson has a clearly calming effect on the young woman who slowly regains composure and turns to the dog for comfort.

Explaining Samson's purpose, Danielle wrote: "I trained him to alert to depressive episodes and self harm not both but he alerted. It appears the response is late but it's actually supposed to be as I'm coming out of the meltdown as I tend to have a panic attack after."

This is truly incredible so be sure to take a look.