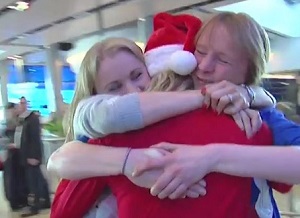 Christmas is undoubtedly the most magical time of the year. As well as Santa's arrival on the 25th, our friends and family are returning from all corners of the globe to spend some quality time with their loved ones.
With so many beautiful homecoming videos appearing online, this one has to be the most touching of all.
Dympna O'Connor's daughter Carmel was coming home from Australia for Christmas, and the family decided to give her a big surprise at Dublin Airport.
However, they could never have expected the surprise that she had in store for them!
This will absolutely warm your heart. Check out the beautiful footage for yourself below.