Easter is just around the corner and keep ing the kids happy while you enjoy your Sunday roast is no mean feat.
However, with the following seven games ready to go they will be kept amused for hours AND you'll find a good use for all those eggs that they got!
1. Easter egg and spoon race
The same as the traditional egg and spoon race but at least if you drop this egg you won't have goo all over the place – just make sure the tinfoil is still on the chocolate so it doesn't get dirty!
2. Easter egg hunt
Head out to your local shop and stock up on as many Easter eggs as your budget allows. You can simply hide them all over the garden or the house and let the kids run around looking for them or do clues that they have to follow. Obviously how you play depends on the age of the participants.
3. Guess the number of mini eggs in a jar
Fill up a large sweet jar with as many mini eggs as you can and have the kids guess how many are in there. The winner gets to keep the jar (but you might want to take out a few before handing it over, otherwise they'll have a chocolate crash...)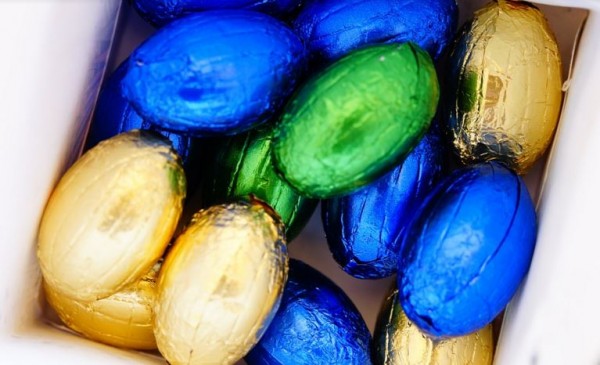 4. Easter egg roll
Just like bowling but with chocolate, line ten bowling pins (empty plastic bottles) at the end of the room and give each child one Easter egg. The players have to try to knock over as many bottles as possible and the person who hits most wins.
5. Balancing the Easter egg obstacle course
Set up an obstacle course in your back garden and give each child a tablespoon and a large egg. When you shout "go", they have to run the course as quickly as possible WITHOUT dropping the egg!
6. Free the egg from the balloon
Fill up a number of balloons with a mini egg each (making sure they are covered in foil) and then blow up the balloon. Each player gets a go at trying to pop the balloon to get the egg out WITHOUT using their hands.
7. Hot potato egg toss
Give each player an egg and get them to pretend that it's as hot as a hot potato. Standing in a circle they then have to toss the egg to each other; when someone drops the egg they are out, and play continues until there is only one person left.
SHARE with someone you'd love to play with.