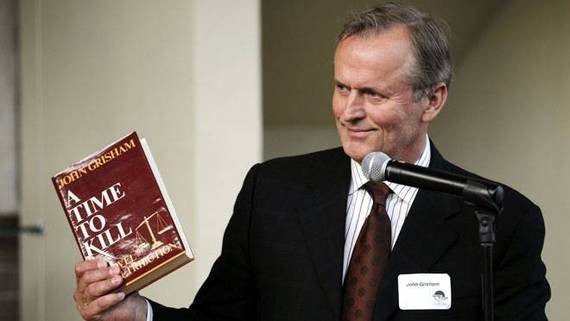 Crime author John Grisham has come under fire for comments he made about child pornography in a recent interview.
The celebrated novelist has criticised the American legal system for wrongly sending men to prison for paedophilia after images and videos of children in sexually compromising posititions were found on their computers.
In an interview with The Telegraph, the 59-year-old said that men who had "accidentally" watched child pornography should not be locked up. "We have prisons now filled with guys my age. Sixty-year-old white men in prison who've never harmed anybody, would never touch a child," he said. "But they got online one night and started surfing around, probably had too much to drink or whatever, and pushed the wrong buttons, went too far and got into child porn."
The Pelican Brief author said he feels strongly about the issue because a friend of his went to prison for three years after he was arrested during a police sting. "His drinking was out of control, and he went to a website... And it said '16-year-old girls'. So he went there... He shouldn't have done it. It was stupid, but it wasn't 10-year-old boys... He didn't touch anything," said the author.
Grisham was quick to point out that he did not look kindly on child sex abusers. ""I have no sympathy for real paedophiles," he said. "God, please lock those people up. But so many of these guys do not deserve harsh prison sentences, and that's what they're getting."
Fans took to social media to express their shock at Grisham's statements. "After being a firm favourite of mine for over 20 years, Mr Grisham, I can state with all certainty that I will never purchase another book of yours ever again," said one message. "I am absolutely disgusted at the stance you have taken over child pornography and have lost all respect for you."
Another reader wrote, "So watching child porn isn't an offence? What a disgusting thing to say. You've lost me."