Erika Gönczi is a Hungarian writer, graphic designer and illustrator – she graduated in 2006 with a degree in computer graphics and worked in the profession for a few years but she was missing out on developing her own creativity.
She started writing children's poems first, then tales, but only for her own entertainment. During her one-year stay in Switzerland, she took a pencil in her hand, began to draw and she created her first Peter Vole character: the tiny vole was posing in a funny red ski suit.
And so began the Adventures of Peter Vole!
In the latest release, Eddie, the scientist mouse, takes his best friend, Peter Vole, on a test flight to try out his homemade aeroplane for the first time. However, the journey takes the two little rodents on unexpected adventures. Due to a series of unfortunate events, they become stranded on an unknown island with an empty tank. The talented Eddie tries to work out how to produce fuel from nothing. The eager Peter Vole is ready to help him, but his awkward attempts only make the situation worse.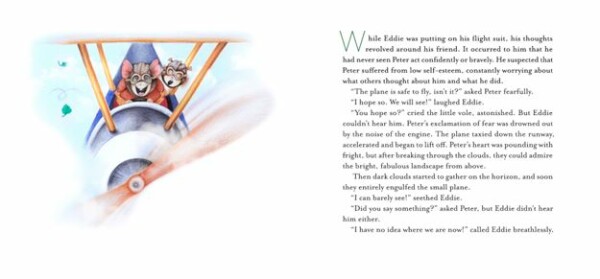 What happens when a brave mouse and a cowardly vole have to work together to find a solution? The adventures on the island help Peter Vole find enlightenment and serenity.
By the end of the story, the little vole is richer with the knowledge that if he dares to act boldly, he can live a more fruitful life.
This is a beautiful story, with heart-warming illustrations – it will be enjoyed by both young and old.
To find out more – click here