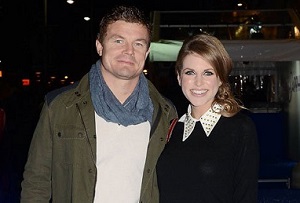 His son was just born yesterday, but already rugby legend Brian O'Driscoll is passing on his wisdom.
The star took to his social media earlier today to share a photo of a message he stumbled upon outside of a café.
The message on the blackboard reads: "Congratulations. Free coffee for Billy O'Driscoll".
Posting the photo up on his Twitter page, the 35-year-old wrote: "Son, if I can give u [sic] one piece of advice, never look a gift horse in the mouth!"
Brian is such a good sport. We love it!
Brian was pictured beaming last night as he popped out of the hospital where actress wife Amy Huberman gave birth to the couple's second child.
The couple, who only announced the news that they were expecting again back in September, haven't released any details beyond their son's beautiful name, Billy.
Amy and Brian are already parents to their 20-month-old daughter, Sadie.
We cannot wait to get a look at their new bundle of joy!