Ten can be a bit of an awkward age for kids who love to read.
They've moved beyond the kiddie stuff, but they're still too young for tween and teen reads. It's an awkward middle ground and it can be hard to tell what is age appropriate for them, especially if they're voracious readers who read above their grade.
We're here to help. We've picked out the top rated 'middle grade' children's books and chronicles specifically designed to hook young readers! Full of magic, history, quests and adventure, these reads will have them gripped from page one! Happy reading!
'Nevermoor' by Jessica Townsend (Little, Brown Books for Young Readers)
Morrigan Crow is cursed. Having been born on Eventide, the unluckiest day for any child to be born, she's blamed for all local misfortunes, from hailstorms to heart attacks - and, worst of all, the curse means that Morrigan is doomed to die at midnight on her eleventh birthday.

But as Morrigan awaits her fate, a strange and remarkable man named Jupiter North appears. Chased by black-smoke hounds and shadowy hunters on horseback, he whisks her away into the safety of a secret, magical city called Nevermoor.

It's then that Morrigan discovers Jupiter has chosen her to contend for a place in the city's most prestigious organisation: the Wundrous Society. In order to join, she must compete in four difficult and dangerous trials against hundreds of other children, each boasting an extraordinary talent that sets them apart - an extraordinary talent that Morrigan insists she does not have. To stay in the safety of Nevermoor for good, Morrigan will need to find a way to pass the tests - or she'll have to leave the city to confront her deadly fate.
Buy here.
'Tiffany Aching Chronicles' by Terry Pratchett (Harper Collins)
Armed only with a frying pan and her common sense, Tiffany Aching, a young witch-to-be, is all that stands between the monsters of Fairyland and the warm, green Chalk country that is her home.
Forced into Fairyland to seek her kidnapped brother, Tiffany allies herself with the Chalk's local Nac Mac Feegle - aka the Wee Free Men - a clan of sheep-stealing, sword-wielding, six-inch-high blue men who are as fierce as they are funny. Together they battle through an eerie and ever-shifting landscape, fighting brutal flying fairies, dream-spinning dromes, and grimhounds - black dogs with eyes of fire and teeth of razors - before ultimately confronting the Queen of the Elves, absolute ruler of a world in which reality intertwines with nightmare. And in the final showdown, Tiffany must face her cruel power alone...

In a riveting narrative that is equal parts suspense and humor, Carnegie Medalist Terry Pratchett returns to his internationally popular Discworld with a breathtaking tale certain to leave fans, new and old, enthralled.
Buy here
'The Dark is Rising' by Susan Cooper (Aladdin Paperbacks)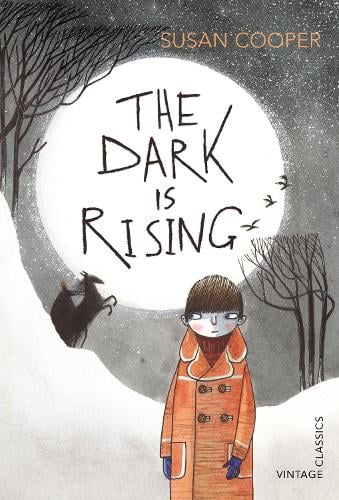 On holiday in Cornwall, the three Drew children discover an ancient map in the attic of the house that they are staying in. They know immediately that it is special.
It is even more than that - the key to finding a grail, a source of power to fight the forces of evil known as the Dark. And in searching for it themselves, the Drews put their very lives in peril. This is the first volume of Susan Cooper's brilliant and absorbing fantasy sequence known as The Dark Is Rising.
Buy here.
'Charlotte's Web' by E. B. White (Harper Collins)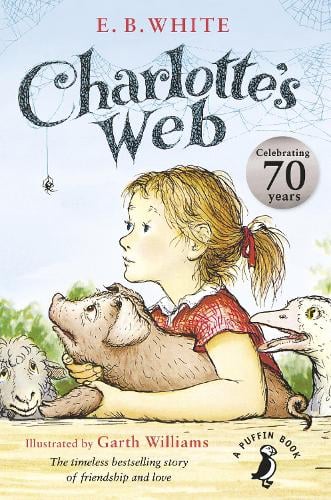 This beloved book by E. B. White, author of Stuart Little and The Trumpet of the Swan, is a classic of children's literature that is "just about perfect."

Some Pig. Humble. Radiant. These are the words in Charlotte's Web, high up in Zuckerman's barn. Charlotte's spiderweb tells of her feelings for a little pig named Wilbur, who simply wants a friend. They also express the love of a girl named Fern, who saved Wilbur's life when he was born the runt of his litter.

E. B. White's Newbery Honor Book is a tender novel of friendship, love, life, and death that will continue to be enjoyed by generations to come.
Buy here.
'Beyond the Deepwoods; The Edge Chronicles' by Paul Stewart (Corgi Books)
Abandoned at birth in the perilous Deepwoods, Twig Verginix is brought up by a family of woodtrolls. One cold night, Twig does what no woodtroll has ever done before – he strays from the path.

So begins a heart-stopping adventure that will take Twig through a nightmare world of fearsome goblins, bloodthirsty beasts and flesh-eating trees. Can he discover the truth about his past?

Beyond the Deepwoods is the first book of the Twig Saga – second trilogy in The Edge Chronicles. Each book is a stand-alone adventure, so you can read The Edge Chronicles in any order you choose.
Buy here.
The Girl of Ink and Stars by Kiran Millwood Hargrave (Chicken House)
Winner of the Waterstones Children's Book Prize 2017, and the British Book Awards' Children's Book of Year 2017
Forbidden to leave her island, Isabella Riosse dreams of the faraway lands her father once mapped.
When her closest friend disappears into the island's Forgotten Territories, she volunteers to guide the search. As a cartographer's daughter, she's equipped with elaborate ink maps and knowledge of the stars, and is eager to navigate the island's forgotten heart.
But the world beyond the walls is a monster-filled wasteland – and beneath the dry rivers and smoking mountains, a legendary fire demon is stirring from its sleep. Soon, following her map, her heart and an ancient myth, Isabella discovers the true end of her journey: to save the island itself.
Buy here.
'The Strangeworlds Travel Agency' by L.D. Lapinski (Orion Children's Books)
At the Strangeworlds Travel Agency, each suitcase transports you to a different world. All you have to do is step inside . . .
When 12-year-old Flick Hudson accidentally ends up in the Strangeworlds Travel Agency, she uncovers a fantastic secret: there are hundreds of other worlds just steps away from ours. All you have to do to visit them is jump into the right suitcase. Then Flick gets the invitation of a lifetime: join Strangeworlds' magical travel society and explore other worlds.
But, unknown to Flick, the world at the very centre of it all, a city called Five Lights, is in danger. Buildings and even streets are mysteriously disappearing. Once Flick realizes what's happening she must race against time, travelling through unchartered worlds, seeking a way to fix Five Lights before it collapses into nothingness -- and takes our world with it.
Buy here.
'A Pocketful of Stars' by Aisha Busby (Farshore)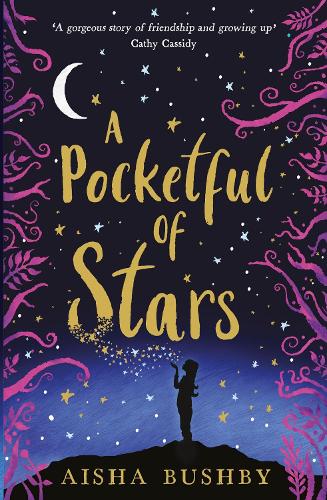 "When I next open my eyes, I'm back . . . in front of the house again.
It's night time. The stars wave hello, like they've been expecting me.
The door of the house, Mum's house, is wide open, like it expects me too.
This time, I go inside . . ."
Safiya and her mum have never seen eye to eye. Her mum doesn't understand Safiya's love of gaming and Safiya doesn't think they have anything in common. As Safiya struggles to fit in at school she wonders if her mum wishes she was more like her confident best friend Elle.
But then her mum falls into a coma and, when Safiya waits by her bedside, she finds herself in a strange alternative world that looks a bit like one of her games. And there's a rebellious teenage girl, with a secret, who looks suspiciously familiar . . .
Buy here.
'Redwall' by Brian Jacques (Red Fox)
A quest to recover a legendary lost weapon by bumbling young apprentice monk, mouse Matthias.
Redwall Abbey, tranquil home to a community of peace-loving mice, is threatened by Cluny the Scourge savage bilge rat warlord and his battle-hardened horde. But the Redwall mice and their loyal woodland friends combine their courage and strength.
Buy here.
'Hope Against Hope' by Sheena Wilkinson (Little Island)
Ireland is at war, communities torn apart by bitter hatred – and now a hard border. But brave young women stand up for hope.
The year is 1921. Ireland has been at war for two years. Communities are torn apart by bitter hatred - and now a hard border splits the island.
In Belfast, Helen's Hope hostel is a progressive space where young women live and work together - a haven of tolerance and diversity in a fractured city. But some people hate Helen's Hope and all it stands for...
Another pitch-perfect historical novel from the prize-winning author of Star by Star.
Buy here.
'Once upon a Place' by Eoin Colfer, P.J. Lynch. (Little Island)
Once upon a Place features six new poems by Irish poets alongside stories from many of Ireland's leading children's writers including Roddy Doyle, Derek Landy and former Laureate na nÓg Siobhán Parkinson, as well as the first ever story for children by Academy Award nominee Jim Sheridan, director of My Left Foot, The Field and In America. It will also feature new work by Eoin Colfer himself, along with Pat Boran, Seamus Cashman, John Connolly, Marie-Louise Fitzpatrick, Mark Granier, Paula Leyden, Oisín McGann, Geraldine Mills, Jane Mitchell, Kate Newmann, Sarah Webb and Enda Wyley.
The anthology enhances this project by bringing stories of Irish places to children all over the country and further afield.
Buy here.
'The Ministry of Strange, Unusual and Impossible Things' by Paul Gamble (Little Island)
A novel full of adventure, hilarity, heroism and … pirates, The Ministry of SUITs tells the story of a secret Ministry hidden away in the far reaches of the Ulster Museum in Belfast. It deals with all the strange, unusual and impossible things in the world, the things we don't want to have to think about or deal with as perfectly-normal-thank-you-very-much people: ancient monsters, wild animals, pirates, unicorns, aliens and much more.
Some people are born to work in the Ministry, and 12-year-old Jack is one of those people. Endlessly curious, perhaps to a level that might be called nosy, Jack finds himself and his frenemy Trudy as the Ministry's newest recruits. And their first mission? To find out where all the school oddbods are disappearing to…
Buy here.
'The Boldness of Betty: A 1913 Dublin Lockout Novel' by Anna Carey (O'Brien Press)
It's summer 1913 and Betty Rafferty is fed up. Forced to leave school aged 14, Betty is considered lucky when she gets a job in a sweet shop. After all, her da and her older brother Eddie are both working hard down on the docks in all weathers. But Betty is bored at the shop, and looks with envy at her customers who attend the posh girls school on nearby Eccles Street.
But life in Dublin becomes anything but boring when industrial unrest brings the city to a halt. Betty is shocked when her brother Eddie is badly injured by a police charge. The city becomes increasingly violent - and hungry. Betty has never seen anything like the violence and is horrified when employers start locking out workers who refuse to abandon the trade union.
At the start of September a terrible tragedy strikes the tenement houses in Church Street, and Betty's friend Rosie loses both her mother and her sweet little brother Francis.
When Betty hears about a soup kitchen organised by the Irish Women Workers' Union at Liberty Hall, she's determined to help out. There, she meets other union activists, Countess Markievicz, and sympathetic suffragettes. As the Lockout continues into the bitter winter months, people are beginning to starve. Dora Montefiore sets up a Save the Kiddies scheme, and Betty's sister Lily looks to take baby Robbie to safety in England. But the Irish Church has other ideas ...
Can Betty do her bit to help Lily make her escape? Can she really change their fortunes?
Buy here.