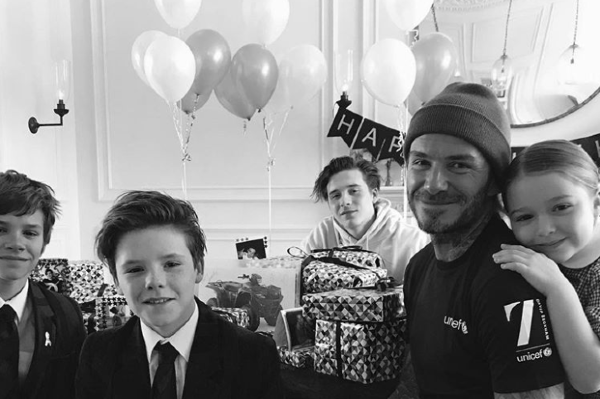 Since becoming a dad, David Beckham's life has changed drastically. He has waved goodbye to the days where he spent millions of pounds on designer jewellery and expensive cars, and hello to the responsibilities that come with fatherhood.
He told the Evening Standard about the changes he and Victoria have made since becoming parents, "We used to be very extravagant in what we'd buy each other. But we're obviously saving the pennies now because we have so many children."
Victoria and David are two of the biggest names in their respected industries, but the parents are extremely family focused. The footballer admitted that his family will always be his number one priority, spending time with one another is an essential.
"It's the simple things. It's more about spending time together, going for a simple dinner together," he explained.
David may be an extremely loving dad, but that doesn't stop his kids- Brooklyn, Romeo, Cruz and Harper- from mocking him.
It's safe to say the mini Beckhams don't take their dad's modelling career very seriously, with Romeo impersonating his dad's pouty pose, "He turned around and said, "Dad, why do you look like this in all pictures?", I'm going to have to work on a new look."
The 42-year-old has a great relationship with his kids, even if they can be little jokesters at times. However, the kids have certainly had a big impact on his emotions, with David revealing he cries very easily.
"I could be watching an episode of Friends and I would get emotional. When you have kids you definitely become more emotional as a person. I definitely feel that anything that relates to me — family, the kids."
We love how family-focused David is.