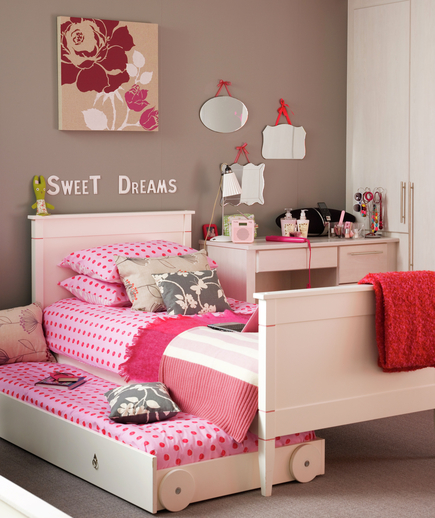 A shared room doesn't have to mean less space and more arguments between your little ones.
Here are a few clever ideas to make the most of a shared bedroom.
Growing together
Sharing spaces can start from the very beginning. Play it safe with all white furniture and add bursts of colour with the rug, linens, and artwork which can all be swapped as the kids grow.
Mix and Match
When it comes to decorating for teenage girls, it's all about mixing and matching. Blending styles (stripes, florals, plaids) can really work if you stick to a consistent colour palette.
Roll with it (main picture)
Whether two girls are sharing a bedroom or it's a guest room with extra sleeping spots, a roll out bed is a smart furniture choices that solves lots of space issues.
Bunk beds
If your kids need to share a space, consider bunk beds so bedding doesn't take over the playtime area. Bunk beds can be lots of fun for kids with a little imagination. They can be a pirate ship for little boys, or an enchanted castle for little princesses. Let your kids add a little of their own decorations to the beds, or match the bedding (princess duvet, for example) to their fantasy.
Double up
A bit of creative thinking can mean your kids feel as if they have their own 'room' each. One choice is to divide a shared bedroom with a discreet pocket door. Beds with hidden storage compartments, are brilliant for holding blankets, sheets, and out of season clothing too.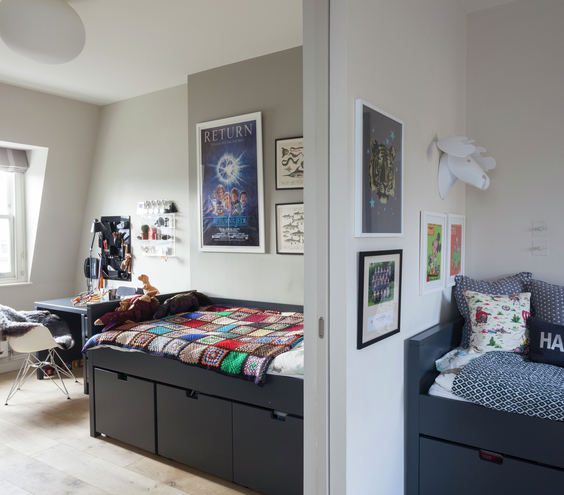 Images via Pinterest.