Say hello and test the brand new 'innocent juicy drinks'
Join this group
Please say hello to the brand new innocent juicy drinks.
innocent have been making smoothies for years now but have only recently launched their new orange and apple juice earlier this year. After chatting to lots of mums, they found that lots of mums tend to dilute juice with water for their kids to enjoy. So they've come up with a drink that does just that, thanks to the help of mums. The new
innocent juicy drink
is a delicious, refreshing and healthy blend of 100% pure fruit juice, a dash of spring water and absolutely nothing else.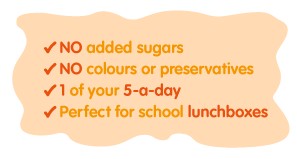 Every carton contains 1 of your 5-a-day with no concentrates, additives, flavourings or any weird stuff whatsoever.
They're the most natural kids' drink going. With 5 cartons in every pack, they are perfect for lunchboxes and picnics. There are two tasty recipes to choose from – apple and orange – there's no better way to refresh your kids.
innocent would love to know what you and your children think about their products. We are looking for 50 Irish mums to test the new innocent juicy drink. To take part you must have at least one child aged between 4 and 10.
Update: we have reached our target of 50 mum testers for the new innocent juicy drink. Why not join our Mums Say group to learn about our new product tests first? Click
here
to join.
If you would like to take part, you need to join this group (green button will appear under photo above once you are logged in) and email us at mumssay [at] mummypages.ie please putting "innocent" in the subject heading, with your name, address, contact number, age of your children and your MummyPages user name. We will be in touch with you if you have been picked to do this test - don't worry if you aren't selected as we have loads more Mum's Say trials coming.
Note: in the case of being over subscribed for this product trial, we will pick 50 mums at random.

Joined our Mum's Say group yet? Be the first to know about exciting new trials! Click
here
to join.