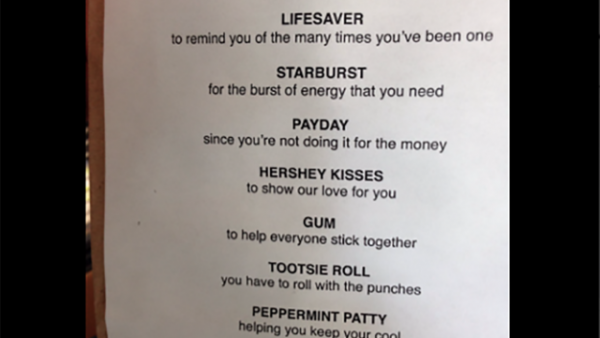 A few days ago, six-year-old Jackson from Massachusetts arrived at his local police station.
But he didn't need any help from the police. He simply wanted to show them that he appreciated their hard work.
And he did it in the most adorable way. With his dad alongside him, he went around the police station passing out dozens of 'survival kits' for all of the officers present.
Inside the kits were some sweets and a note from the heart.
It reads:
Lifesaver -- to remind you of the many times you've been one

Starburst -- for the burst of energy that you need

Payday -- since you're not doing it for the money

Hershey Kisses -- to show our love for you

Gum -- to help everyone stick together

Tootsie Roll -- you have to roll with the punches

Peppermint Patty -- helping you keep your cool

Snickers -- to help keep your humour

Mounds -- for the mounds of courage you show
As you can imagine, the police were overwhelmed by the wonderful gesture. The department took to Twitter saying, "the world needs more Jacksons!" Hear, hear!
— Holliston Police (@HollistonPolice) July 20, 2016
SHARE if you love this sweet idea.