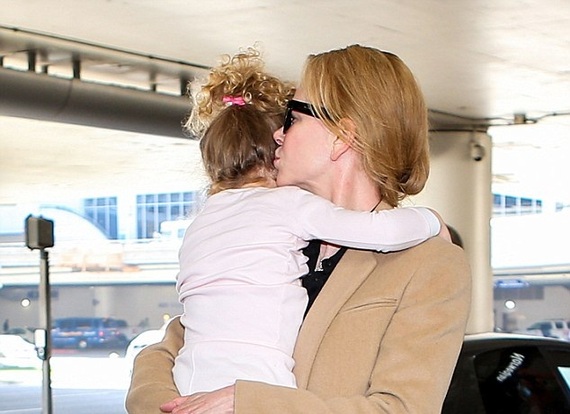 Film star Nicole Kidman has opened up about her hopes for more children in a radio interview today.
The 47-year-old actress explained how she would love another baby, but has almost given up.
"I hope every month I am pregnant but I never am," she said. "I would be jumping for joy, but it won't happen. I'm 47."
When reminded by the show's hosts that TV presenter Sonia Kruger is currently expecting at 49, she replied, "that's incredible, what a fabulous thing. My grandmother had her last baby at 49 so you never know."
Nicole has four children: two adopted children with ex-husband Tom Cruise, Isabella Jane, age 22 and Conor Anthony, age 19; and two children with her current husband, Keith Urban. Sunday Rose was born in 2008, and Faith Margaret was born in 2010 through a surrogate.
Nicole has publically spoken about her trouble conceiving, suffering from miscarriages and an ectopic pregnancy. After the birth of Sunday she told press how she thought she would never be able to have that experience.
"I had so much time thinking that wasn't going to happen in my life and trying to understand that. When it did happen — and for it to be a surprise — that was great," she said.
"I had tried and failed and failed and failed ... I've done all the stuff you can possibly do to try get pregnant."
"Every woman who has been through all those ups and downs knows the depression that comes with it."
"So the way it just happened with Sunday was like, "What?" The percentages were so low. It is the miracle in my life."