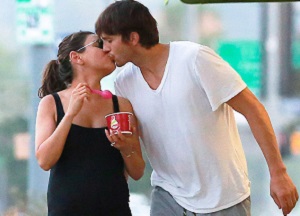 They only just welcomed their first child together, but it looks like Ashton Kutcher and Mila Kunis are already planning on adding to their brood.
According to reports, they are keen to give Wyatt a little brother or sister, and would like the siblings to be close in age.
A source told E! News that Ashton and Mila are "loving" being new parents, adding: "Ashton is already mentioning baby number two. Mila laughs and tells him to slow down! But she wants another baby, and to have it close to Wyatt's age so they can be close."
The Ted actress, who gave birth to the couple's first daughter in September, is also working hard to lose her baby weight.
The source added that while she is "not too stressed" about regaining her pre-baby figure, she has been doing yoga and cardio in the weeks since giving birth.
We're glad to hear that they're enjoying this special time.