It sounds kind of impossible, right? Especially nowadays, when our kid's attention is being pulled away by everything – TV, social media, phones and whatever the latest app out is – it's sometimes hard to imagine them settling down with a good book. Even we as adults can find it difficult to put the screens away and give a book our undivided attention! So how can we expect kids to do it?
Children's publishers are increasingly being told, 'You're fighting against a screen with endless possibilities for their attention. So your books better offer endless possibilities too.' To a certain extent, this is true. But children's publishers and authors have been delivering incredible worlds and stories to our children and still, it's sometimes not enough.
This is because in today's world, for many of us, reading is an act of disengagement form the noise that is our lives and our phones. It has to be deliberate, an act of self-care and switching off from life. It's almost like doing a meditation or a yoga session – all things we need to actively train ourselves to do. And reading is no different.
This is not a habit that appears out of nowhere. So whether you're kids are just getting to a reading age or are into their teens, we have the tips and tricks to get their noses stuck in a book!
Point at pictures while reading to them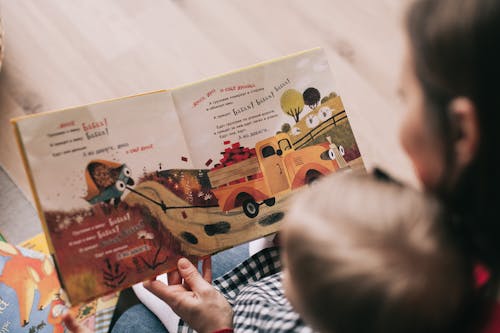 For the younger ones, we don't really expect our toddlers to sit quietly and listen while we ramble on about whatever predicament the animals in the book have usually gotten themselves into. But changing our voices for different characters and words – as silly as it might feel sometimes – and pointing to the pictures as we say the words will pique their interest and also teach them new vocabulary. It could be the start of an interest, even if they can't quite read along yet. Books become entertaining and engrossing, a part of play time, rather than its opposite.
Make it part of their daily routine
If reading to them is a sporadic event then it won't stick. Children thrive in routine, so having even just a few pages of a book read to them each night helps to form this habit and may become as much a part of their routine as brushing their teeth. It is also a good bedtime wind down routine. Reading is known to be extremely relaxing, so incorporating it into bedtime routines could actually help with their sleep habits too.
Think beyond books
A love for reading can spring from anywhere. There's no point in being snobbish about what kind of literature they're consuming – whether it's manga, magazines, comic books or something else entirely. Any sort of storytelling is good for them and their development and having a wide range available to them is key.
Get them a library card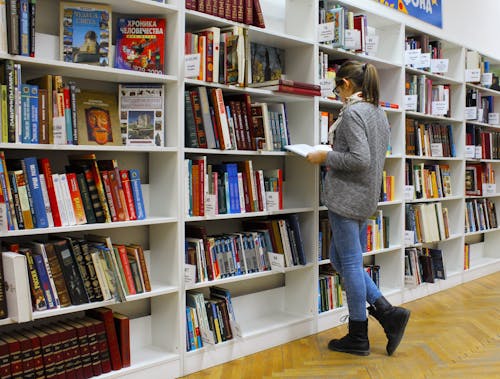 This leads on nicely from our last point! A library card opens up an entire world of discovery for kids. Libraries have so much more available now than they did when we were kids – digital subscriptions, e-books, courses, cultural and creative initiatives – it's an entire hub of information and entertainment available to your kids. Giving them the freedom to have their own choice of what they pick out is also key. Allowing them to have a wander and be free to make the choice of what they want is a little independence and control that they might enjoy. The time limit if having to return the books might also make them more likely to read while they have the books there.
Audiobooks
People often tell me 'Oh I love stories, but I'm not a real bookworm – I listen to audiobooks!'. I'm always bewildered by this statement, because who cares what form a book is in as long as you're absorbing it? I know people who tear through several books a month by listening to audiobooks on their commute or in work and still proclaim they aren't readers. It's a particularly good medium for kids because the voice keeps them engaged and listening without the work of concentrating on a page and particularly for young readers who are still piecing together the reading process.
Start a series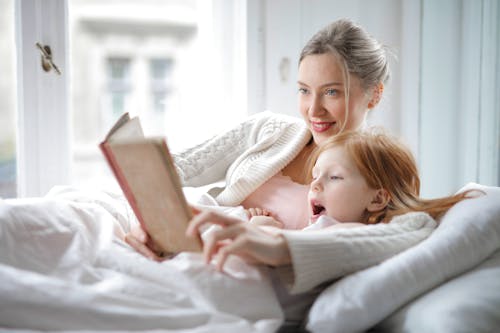 Getting them attached to a cast of characters and stories that return again and again is a great way to get them hooked. The story doesn't end after the one book but keeps you wanting to know more – will the evil villain ever be truly defeated? Will they all remain friends throughout the series? Will everyone make it out alive? I see a lot of parents start off on Harry Potter which is a great one, but other series that could work well are the Percy Jackson books (which I adored), Diary of a Wimpy Kid series (which is also illustrated and hilarious) and the Beast Quest series. The Alex Rider series is also popular with kids.
Set an example
Children will copy their parent's example to a fault. So if they see you settling in to read on the regular, you can bet you'll find them one evening stuck between the pages of a book. It's hard to find that time for yourself – particularly when the kids are still awake (!) – but it's worth it for both of you. You get a little time out and they get to follow your good example!
'Rude' books
Books like the Diary of Wimpy Kid full of 'poo' and 'farts' and 'bold' child humour can be all the more fun if they're something 'Mammy doesn't approve of'. These 'gross' books are designed for kids at the age where nothing is funnier than a fake fart and the punchline to every joke is 'poo poo'. The added boldness element may make them more likely to pick it up for a giggle.