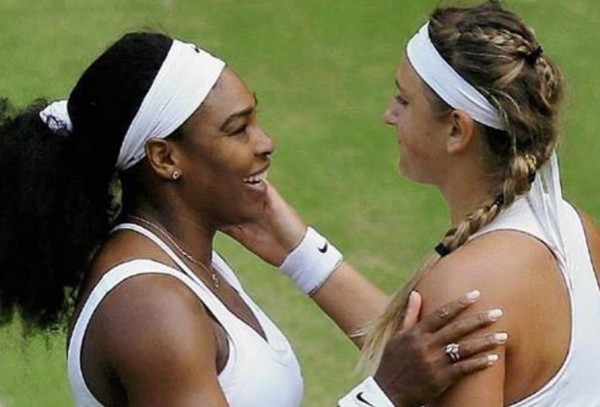 Former world number one tennis player, Victoria Azarenka, has spoken out about the difficulties of juggling a professional career and raising a baby.
On Monday, the sports star played her third game since she had her son, Leo, last December.
While training, she had to spend long hours hanging around the All England Lawn Tennis Club, waiting to be told what time her first-round match would begin.
During a press conference at Wimbledon, she spoke about her latest match, saying: "I had to be here the whole day which, for a new mum, is a little tough. Hopefully, I won't play like this again."
The two-time winner of the Australian Open shared a picture of her six-month-old at one of her training sessions. The caption on Instagram read: "Guess my practice is not as interesting as eating your first credential ever! Leo decided to make it to Aorangi Park just to chill on a beautiful grass on a sunny day! Will keep all white outfit for next week."
In an interview with Vogue Magazine, she said that she is determined to continue her career and be a mum.
'It was always my wish. I always wanted to continue to do what I love doing, continue my career. I'm still young! But I wanted to wait until Leo was born and see how I was doing mentally and physically, and take it from there,'
The player also touched on her inspiration in an interview with The Guardian: one of her biggest icons, volleyball player Kerri Walsh Jennings. Kerri started having children in 2009 and has continued with her glittering sports career ever since.
"One of my biggest inspirations was Kerri Walsh, who came back after three kids and was still playing for a gold medal. Nothing is impossible: for women, that's definitely true," Victoria said.
Her friend, Serena Williams will soon follow suit. She is expecting her baby in the autumn and is looking forward to getting back on the court. Victoria recently tweeted about how impressed she was with Serena's picture on the cover of Vanity Fair magazine.
"Just amazing," she wrote, adding in a 'love eyes' emoji face, tweeting a link to Serena's jaw-dropping maternity shoot.
In 2012, Azarenka reached the number one ranking. She is one of the few elite female tennis players remain on the professional circuit after having a child. She now lives in Monte Carlo with her American boyfriend.