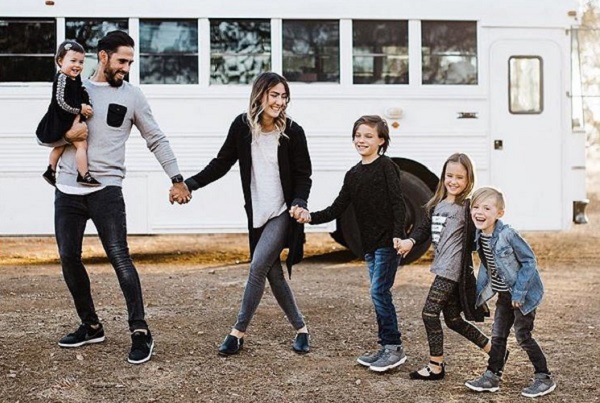 Talk about down-sizing.
Gabriel and Debbie Mayes swapped their 5,000-square-foot home for a tiny 250-square-foot converted school bus.
Now the children do their homework on trays in the bus's living room/kitchen.
The kitchen is miniature, containing a sink, an oven and a fridge. Mum Debbie cooks vegetables inside and grills the rest on the meal.
The family share a tiny bathroom and the children share a room with bunk beds. As for mum and dad, they get their own private room- which doubles as closet.
"On either side, we have storage, which is where we keep Gabriel's and [my] clothes go," Debbie told Inside Edition.
While they've had to cut down on many creature comforts, for the family the positives of tiny living outweigh the negatives. Being in each other's company is something that the family enjoy.
"That was the point," Gabriel explained. "We could all be in the same room at all times. As crazy as it may sound, we are having a blast doing it."
The school bus has changed massively since the family first bought it and converted it. The initial conversion cost $38,000. Working as web designers, Debbie and Gabrielle pay $650 a month to rent a space in a California caravan park.
"Now all of the money we are making we can put away in savings," Gabrielle said.
The family now run their own site and are hoping to encourage more families to embrace tiny living, and the freedom of he open road.
According to their Instagram, the family plans to move back into a house as the kids get older and bigger- eventually renting out the bus as an airbnb.
"This journey hasn't been easy, or what we thought but it's been exactly what we needed," they write on their Instagram.
We gotta say- it does look pretty tempting!