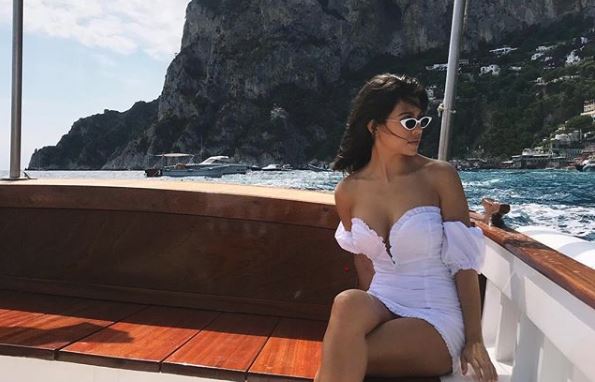 Kourtney Kardashian is not a woman to be messed with.
Then again, if a stranger passed comment on your parenting skills, how would you feel?
The Keeping Up With The Kardashians star has hit back at comments on one of her recent Instagram pictures.
The snap shows the 39-year-old on board a yacht wth the caption, ''just finished my daily basket of focaccia...hbu?''
She is currently on holiday with her boyfriend Younes Benjamin, 25, and her three kids Mason, eight, Penelope, five and Reign, three.
The picture soon attracted many comments that attacked her parenting skills.
One person wrote, ''where are your kids?" to which Kourtney replied, ''my son was taking the photo, and the other two were sitting across from me. Thank you so much for your concern.''
Well said, Kourtney.
Kourtney Kardashian slams troll who criticised her parenting #KourtneyKardashian pic.twitter.com/MqNLU7fFMb

— BANG Showbiz (@BANGShowbiz) July 10, 2018
Kourtney has suffered ''mum-shaming'' on various occasions about how she manages three young children- especially since she has split up with their father, her ex-boyfriend Scott Disick, 35.
Only a month ago, Stylecaster reported that she was suffering a backlash for not tweezing her eight-year-old son's eyebrows!
Scott had posted a photo with Mason when the comments started rolling in.
''You have how much money and you cant help your kids unibrow lol??'' was one remark made while another said, ''yikes! Fix his eyebrows!''
Another incident was when her kids kissed on the lips last year.
The image showed her son Mason and daughter Penelope pecking each other on the lips.
People wrote, ''better watch what you teaching them!" to simply, ''inappropriate.''
It seems like poor Kourtney can't catch a break.
Have you even had to endure people criticising your parenting like this and do you think they should be allowed to?