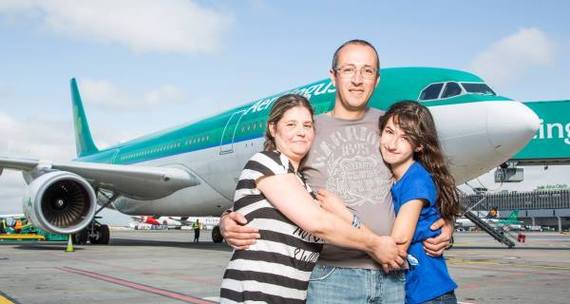 Aer Lingus staff got a huge shock on June 11
th
1975 when Maria Loureiro went into labour, three hours into a flight from Mozambique to Lisbon.
Luckily, air hostess and trained nurse, Jackie Ryan, were on hand to help. She and passenger, Dr Antonio Fachada, turned the first class area into an emergency maternity ward, and Patrick was delivered safely somewhere over Zambia.
That is where the story had ended until yesterday, when Patrick and Jackie were reunited after Aer Lingus launched a Facebook search. One of the cabin crew on that flight, who now works in Aer Lingus Head Office, posted a picture taken on the plane of the family with their new arrival, and asked if anyone could get in touch.
Amazingly, Patrick did get in touch, sending photos of him as a baby in the arms of Nurse Jackie, who became his godmother.
"We're delighted to be reacquainted with Patrick," Aer Lingus said in a statement, "and we're in the process of arranging for him, his wife and his daughter to visit us here in Dublin for a catch up — we have a lot to talk about after 39 years."