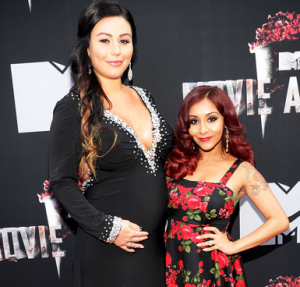 Pregnant Jersey Shore star, Jwoww has spoken out against recent pictures that were making fun of her appearance.
Jwoww whose real name is Jenni Farley went on her official site to talk about the outlets who were criticising her appearance in New York last week.
"Who would pick pictures like that to exploit and hurt someone!? Actually attacking a pregnant person is an all time low. You must be a idiot to think I would get plastic surgery while pregnant! I love my drag queens who do my makeup"
Jwoww said the pictures did make her feel insecure about her looks.
"For one second they made me feel insecure and made me question my hair and makeup today and Roger said, 'You liked how you looked today. You left happy and with no regrets until they wrote something.' He's right. I felt fine. Then Roger said, 'You're not weak so stop acting like it.'"
Jwoww's best friend, Snooki who is also expecting, tweeted her support to her friend yesterday.
"Wanna say how beautiful my best friend is. Don't let anybody get 2 u, u look amazing for being 8 months preg&I strive 2be like u @JENNIWOWW."
Jwoww revealed last December that she was expecting her first child with her partner, Rodger.
However the reality star admitted last month that she had found pregnancy difficult but knew it would be worth it.
"I'm not a fan of pregnancy right now with my thighs touching and my boobs changing but I know it will be worth it."