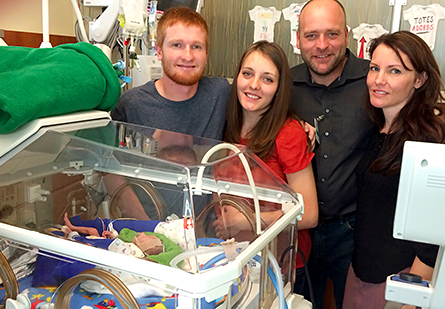 ​Karlie, star of TLC reality TV show, My Five Wives, has opened up about giving birth to her son at 25 weeks pregnant back in October. Baby Huck is still in the hospital, but the family spoke with US Weekly about the birth, saying that Karlie was told she was going to give birth after getting pains in her lower back during dinner before going to the hospital: "They told me I would have him that night. There was really no chance of him staying inside me."
Karlie's dad, Brady spoke of his fear for his daughter and little grandson, saying: "I was just heartsick. I was just standing at the head of the bed just holding Karlie's hand and just trying to pray and hope for the best. Karlie was obviously really scared. She was scared she was going to die and her baby was going to die. I was just trying to be her dad and support her."
Baby Huck was born on 29th October and weighed only 2lbs 1oz and is remaining in hospital for now, six weeks after his birth.
Karlie's dad, Brady Williams is the star of the reality TV show and Karlie is his daughter with his first wife, Paulie. Karlie also has four other mums as Brady is also married to Nonie, Rosemary, Robyn and Rhonda.
It's certainly a difficult time for the close-knit family as only Karlie's parents and her husband are allowed to visit: "None of the other moms, just my mom, my dad and my sister. All of my moms let me know they're thinking of us and praying for us and they always send their love."
Her dad also spoke of the difficulty of the situation: "You don't want to spread any germs. It would be horrible if Karlie got a cold because she wouldn't be allowed in to her baby and so Karlie's really had to isolate herself and get love from afar."
Our thoughts are with Karlie and Baby Huck for a speedy recovery.